Reverse Engineering the Modern Classroom
With the role of technology in today's classrooms expanding more quickly than ever, the expectations placed upon teachers, schools and districts have kept pace.
Students deserve the best learning experience possible, and you want to provide that level of engagement and growth. After all, that's why you've dedicated your life to education in the first place.
But complex systems, unnecessary integrations, mounds of cables and devices, budget constraints and more present barriers to achieving that central mission – elevating the modern classroom experience.
Instead of thinking about classroom technology, including displays, interactive elements and more, by attacking the entirety of the solution from the get-go, take a new approach.
Specifically, it's time to reverse engineer the modern classroom.
What Does It Mean to Reverse Engineer a Classroom?
The goal of classroom technology solutions is largely agreed upon – educators want teachers to be free to move about the classroom untethered, using a mobile, wireless device to engage students and connect with them in unprecedented ways.
But, instead of starting by considering open, flexible spaces, network infrastructure, student devices and more from the beginning of the project, reverse engineering asks you to first seek out an effective, proven wireless display solution.
By evaluating, testing and proving a wireless display solution first, you can address a wide range of common challenges with modern technological design in classrooms, helping achieve the ideal end goal of a classroom free of cables, wires, complexity and all of the other traditional hindrances to true collaboration and learning.
"If I have that idea in mind, how do I get there? Where do I start?," said David Lopez, ScreenBeam Senior Manager, North America on a recent episode of Collaborative Tech Talk. "By starting with a wireless display and getting that in place first … you can start making other decisions."
Tammy Brecht Dunbar, a STEM teacher in Manteca Unified School District and guest on Collaborative Tech Talk, likened the reverse engineering approach to the way educators approach helping students achieve certain educational standards.
"We have to look at our standards – our state standards and our Common Core standards – and work towards students having mastery (of those)," she said. "That's the only way to do it, and it's the same thing with technology. You need to take a look at what end result you want in your classroom and how you can use technology to support the education of the students."
Engaging in the Reverse Engineering Solution
Regardless of the scope of the project – from a simple device refresh all the way to total new construction – reverse engineering follows a clear flow toward making the most of your budget and reaching that goal of untethered teachers and wireless classrooms.
After you've committed to that mission, the following series of questions are critical toward making the most of your technological planning:
– What will teacher devices need?
Will you leverage 2-in-1 or clamshell devices? Will teachers use a tablet? Will devices leverage touch or not? Pen or no pen? By closely examining these initial factors, you can begin tailoring your wireless solution to those needs.
– What in-room display choices make sense?
Will your classrooms leverage touch displays, flat-panel displays, projectors, or any number of other display options? You'll need to select a wireless solution that allows for those display choices and makes the process quick and simple.
– What infrastructure decisions need to be made?
Finally, it's time to make critical infrastructure decisions. Where will switches be located? How will displays be mounted? What about drops, and power locations?
"It starts with wireless display, and then I have a device, as a teacher, that gives me the best functionality of that wireless display," Lopez said.
This movement from wireless display to device, then on to display solutions, then finally to infrastructure allows for a thorough, top-to-bottom approach that results in an overall classroom solution that addresses one-of-a-kind educational needs and desires.
The Benefits of Reverse Engineering
By engaging in this reverse engineering process, districts can be sure that their budgets are being leveraged to the best of their ability, and reverse engineering provides new avenues and opportunities that may not have existed without such clear direction.
Spending money on layouts, displays, devices and more without fully considering the entirety of the solution or a wireless display can result in rushed decisions and a lack of funding for the wireless display or other aspects as budgets run dry due to poor foresight.
However, reverse engineering can actually save you money throughout the life of a project, opening up new opportunities for additional options like furniture, build-outs, special projects, emerging technology, rainy-day funds and more.
In other words, when you begin with a proven wireless display, the rest of your budget decisions will fall in line.
The reverse engineering process and resulting modern classroom also have clear educational and future-preparedness benefits, Brecht Dunbar said.
"The knowledge that they're going to be using technology in their future careers is a lot of what drives me," she said. "So, I like to model as much technology as I can, bringing it into the classroom in a natural way that makes sense – not something where technology is the star."
Selecting a proven, easy-to-use wireless display solution also makes a tremendous difference.
"If I provide them with a simple solution so that, when I do professional development, I'm not having to teach them software just to get to the front of the room with their device, that's another thing that you really want to consider when you're setting this up and planning your modern classroom."
It all boils down to a central idea – the teacher is the expert, and any technology in classrooms should support their ability to educated and engage students, not hinder it.
With reverse engineering, you can make that idea a reality.
—
To learn more about how ScreenBeam can be your go-to resource for planning and budgeting modern, district-wide initiatives, visit screenbeam.com.
Latest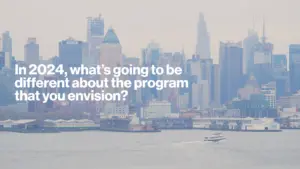 December 1, 2023
In the dynamic telecommunications landscape, Verizon's Partner Network continues to evolve, adapting to new trends and opportunities. For another segment featuring Mark Tina, VP of Indirect Channel Distribution and Channel Chief at Verizon Business Group, he explores exactly what types of significant changes and advancements the Verizon Partner Network will see in 2024. In this […]
Read More