ScreenBeam® and Blue Ribbon Schools of Excellence Announce Joint Webinar Series
Santa Clara, CA. – September 21, 2020 – ScreenBeam® and Blue Ribbon Schools of Excellence (BRSE) are excited to jointly offer a new webinar series exploring a variety of topics to help K12 education leaders foster school improvement and student achievement in these challenging times.
The new K12 webinar series will officially kick off on October 8 with a webinar on "Leading from a Distance" featuring Jayne Ellspermann, a nationally recognized and award-winning education leader serving school leaders at the state and national level, and named National Principal of the Year by the National Association of Secondary School Principals (NASSP). Jayne's session will focus on how school leaders can support the new learning environment with confidence while creating a supportive culture for all stakeholders.
"Our schools, districts and education leaders can really benefit from experienced thought leaders to help them succeed in this uncertain learning environment," said David Lopez, Senior Alliance Manager for ScreenBeam Education. "Together with BRSE, our goal is to support our district and school leaders with advice and best practices from some of the leading national experts in the education field. This touches us all as our students are our future."
BRSE is a nationally recognized, non-profit 501 organization that has been serving schools across the nation since 2001. The BRSE one-of-a-kind assessment survey provides actionable insights that can be used as the starting point for school improvement. Their comprehensive approach to helping schools includes professional development and support, best practice sharing, conferences and networking.
"The webinar series is an opportunity to extend your network, hear from national education experts, and expand your thinking. When we share exemplars, insight, knowledge, and best practices, we collectively strengthen the education profession so it can continue to improve and prosper," said Judy Warden, Fields, Ed.D., BRSE CEO. "We are thrilled to partner with ScreenBeam to support our education community during these challenging times."
In addition to the October 8 webinar, upcoming interactive sessions include:
Thinking Through Technology and Instruction in Today's Modern Classroom (Thursday, October 15, 2020 at 4pm Eastern), featuring Kerry Gallagher, JD and Assistant Principal for Teaching and Learning at St. John's Prep in Danvers, MA., Director of K-12 Education for ConnectSafely.org and an EdSurge Columnist.
Motivating Teachers – Empowering the Heart (Thursday, October 29, 2020 at 3pm Eastern), featuring Dr. Akil Ross, Adjunct Professor of Educational Leadership at the University of South Carolina, author of Empowering the Heart, and founder of HeartEd LLC.
To register for any or all of these sessions, please visit the registration page and get more details on each session and speaker.
About ScreenBeam
ScreenBeam provides a wireless presentation solution to create agile learning spaces. Teachers are free to move around the room, and guide learning from their Windows, Chromebook and Mac devices. ScreenBeam award-winning solutions include Classroom Commander, a classroom orchestration solution for managing student Chromebook and Windows devices. Sold through a global network of elite partners, educators around the globe are using ScreenBeam to connect and collaborate with their students. To learn more about ScreenBeam, visit https://www.screenbeam.com.
Latest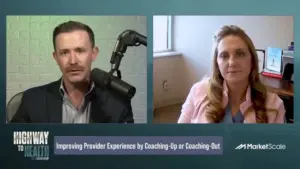 November 28, 2023
Improving healthcare is a multifaceted challenge, with the provider experience playing a pivotal role alongside patient care. In a recent episode of the "Highway to Health" podcast, host David Kemp delved into this critical issue with Stephanie Prechowski, MBA, MSN, RN, AGCNS-BC, CNOR, Chief Operating Officer at Surgeons Choice Medical Center. In this episode, […]
Read More