USDA Invests $72M in Distance Learning and Telemedicine Infrastructure
U.S. Secretary of Agriculture Sonny Perdue today announced the United States Department of Agriculture (USDA) is investing $72 million in grants to help rural residents gain access to health care and educational opportunities. These investments will benefit more than 12 million rural residents.
"Increasing access to telemedicine and distance learning is critical to building healthier and more resilient rural communities," said Secretary Sonny Perdue. "Paired with our monumental effort to expand high-speed broadband access in rural America, these investments will help rural health care centers and education institutions reach more rural residents with essential services and opportunities. Under the leadership of President Trump, USDA is committed to being a strong partner to rural communities because when rural America thrives, all of America thrives."
Background:
USDA is funding 116 projects through the Distance Learning and Telemedicine (DLT) grant program. The program helps health care and education institutions buy the equipment and software necessary to deploy distance-learning and telemedicine services to rural residents.
Perdue announced investments today in Alaska, Alabama, Arizona, California, Colorado, Florida, Georgia, Iowa, Idaho, Illinois, Kansas, Kentucky, Louisiana, Maryland, Maine, Michigan, Missouri, Mississippi, Montana, Minnesota, Nebraska, North Carolina, North Dakota, New Hampshire, Nevada, New York, Ohio, Oklahoma, Oregon, Pennsylvania, South Carolina, South Dakota, Tennessee, Texas, Virginia, Vermont, Washington, Wisconsin, West Virginia, Wyoming, Puerto Rico and the Virgin Islands. Here are examples of projects announced today:
In Texas, the Epic Charter School is receiving a $969,327 grant to link urban schools in Oklahoma and Texas with rural schools, students and community partners in both states. The school will provide Science, Technology, Engineering and Math (STEM) courses, Career and Technical Education (CTE) certifications, Advance Placement (AP)/concurrent college courses, professional development and opioid education services. Interactive video conferencing equipment also will be installed.
In Kentucky, the Bluegrass Care Navigators will use a $500,000 grant to establish a regional telemedicine network with a hub site at its headquarters in Lexington. Three other hub sites will be established to meet the needs of seriously and terminally ill patients across 16 counties in southeastern Kentucky. The hubs will contain designated virtual conference rooms to facilitate continuing education and professional development for clinicians as well as a specialized workspace and telemedicine equipment for conducting high-quality virtual visits.
In Wisconsin, the Cooperative Educational Service Agency 10 will use a $1 million grant to upgrade distance learning technology that will allow for cloud-based bridging and provide videoconferencing endpoints at 39 school districts in 14 counties in west central Wisconsin. This will provide the resources to help students in rural districts have access to the same technology and services often available in urban and metropolitan areas.
To learn more about investment resources for rural areas, interested parties should contact their USDA Rural Development state office. USDA Rural Development provides loans and grants to help expand economic opportunities and create jobs in rural areas. This assistance supports infrastructure improvements; business development; housing; community facilities such as schools, public safety and health care; and high-speed internet access in rural areas. For more information, visit www.rd.usda.gov.
Latest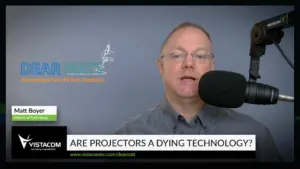 December 4, 2023
Are projectors a dying technology? In today's rapidly evolving landscape of display technology, one might assume that projectors could soon be a thing of the past. Not so fast, thinks Vistacom's Director of Technology, Matt Boyer. In this Dear Matt segment, Boyer, a seasoned expert with over three decades in the AV industry, looks […]
Read More