What Universities Are Learning From Online Education
Six months ago, few of the world's academics had taught an online class. Now they're almost all doing it. I asked dozens of them about their experiences. My conclusion: online education won't replace the in-person variety, but will complement it. University teaching after the pandemic will be blended: a mix of both methods. That could revolutionise universities, help them survive the economic crisis and bring higher education to tens of millions of people who have never set foot on campus.
Most academics I heard from aren't enjoying teaching online. They plunged into the global experiment untrained, to a backdrop of children at home, poor WiFi and lockdown anxiety. Some students in online classes are embarrassed by their homes, or are struggling to follow PowerPoint presentations on mobile phones.
Read the full article on Financial Times.
Latest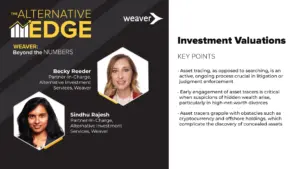 December 4, 2023
In this episode of The Alternative Edge, a Weaver: Beyond the Numbers Podcast, host Becky Reeder, an audit partner and co-leader of the alternative investments practice at Weaver, engages with Sindhu Rajesh, an Alternative Investment Services Partner with Weaver. They unpack the complexities of venture fund valuations, offering critical insights into industry dynamics and best […]
Read More