Thermal Energy Storage Brings Resilience and Risk Reduction to the Cold Chain
A hearty steak, an icy smoothie, a chef's special; we enjoy some of our favorite foods, meals, and conveniences thanks to the cold chain—the use of commercial and industrial facilities that store and ship refrigerated and frozen food. But keeping these cold foods at your neighborhood grocer or restaurant is a costly process. Large refrigerators and cold warehouses strain power grids and tax the environment because of their constant demand for energy.
James Bell, president and CEO at Viking Cold Solution, explained how the cost of operating freezers can be greatly reduced, food can be better protect food, resiliency can be added, and the environmental impact of the cold chain can be lowered.
Using Thermal Energy Storage, Viking Cold combines intelligent controls (cloud-based software, algorithms and sensors) and unique phase change materials to lower the overall cost of power needed to run an industrial freezer.
"We use phase change material, otherwise known as PCM," Bell said. Capable of storing and releasing large amounts of energy, PCM allows businesses to draw energy during low cost periods of the day, store this energy, and circumnavigate costly peak demand power charges. What's more, Thermal Energy Storage is a lifesaver during power loss. Be it a natural disaster or a grid failure, Viking Cold technology provides the temperature stability that can save food from spoiling and prevent enormous loss.
"Ultimately it's about economics…quality, and it's also about sustainability and the environment," Bell said. The net benefits of cold chain technology trickle into all aspects of a business, from protecting the product, decreasing the demand for energy, and building resiliency by reducing reliance on the grid.
Follow us on social media for the latest updates in B2B!
Twitter – @EnergyMKSL
Facebook – facebook.com/marketscale
LinkedIn – linkedin.com/company/marketscale
Latest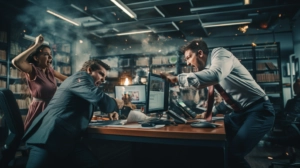 September 22, 2023
The kind of news that is delivered everyday serves as a grim reminder of the escalating violence across the U.S. Evidently, the need for proactive measures to ensure safety has never been more pressing. Such violence is not limited to any particular locale. It's actually permeating in so many different areas once considered […]
Read More