Escheatment Explained: Why Outsourcing Eases The Load
As an oil and gas leader, are you seeking help with escheatment? This often-overlooked source of risk can lead to significant impacts down the road and, as Coby Nathanson, Land Manager, and Raza Rizvi, Vice President of Accounting, in Opportune's Outsourcing practice discuss, it pays to find a partner with energy industry expertise who know how to help your organization navigate it.
Nathanson and Rizvi believe every company should be escheating. In oil and gas, an escheatment often occurs in acquisitions, wherein the state takes ownership of unclaimed property. Needless to say, it can be an administrative and compliance headache for many companies.
"It's a legal requirement that's often overlooked," Nathanson says. "It's incredibly common when companies make big acquisitions and simply get a suspense ledger but don't necessarily complete due diligence. Two or three years down the line, they consider escheating."
What makes the escheatment process even more complex is that each state has their own unique regulations and rules. Some commonalities exist, but there are caveats. Further, the current climate has created increased scrutiny by the states.
"States have fiscal strains, and unclaimed property can be a significant source of non-tax revenue," Rizvi notes. "Operators need to stay in compliance to avoid audits, penalties, or accrued interest."
"Ignorance of the law isn't a defense," Nathanson adds. "There needs to be diligence in owner relations and monitoring of what's going on by state. It's a heavy admin lift, and you want your people looking forward, not back."
While the initial costs aren't substantial, there are many other impacts for companies to consider. That's way companies should focus on proper policies and procedures to help ensure compliance and reduce state audits and penalties.
"If audited, it could take 24 to 36 months, and your people can't focus on their jobs. Penalties and interest can be much larger," Rizvi explains.
To ease this administrative burden, oil and gas companies can seek escheatment assistance by partnering with an experienced energy business advisory that can provide streamlined analysis, holistic reporting, and roll-forward of suspense ledgers to keep them in compliance and avoid costly penalties.
Follow us on social media for the latest updates in B2B!
Twitter – @MarketScale
Facebook – facebook.com/marketscale
LinkedIn – linkedin.com/company/marketscale
Latest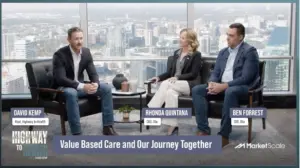 December 7, 2023
As of recent times, the healthcare industry has been progressively shifting towards value-based care, a model that emphasizes patient outcomes over the quantity of services delivered. This transition represents a significant shift that promises to enhance patient experiences and outcomes while controlling healthcare costs. With a growing emphasis on this approach, especially over the […]
Read More