How The Situation In Afghanistan Impacts The Oil And Gas Markets
The Taliban took over Afghanistan on Sunday, as they flooded the capital, Kabul, while the U.S. worked to remove all of its foreign dignitaries. Scenes of crowded airports and Afghan citizens clinging to an American bomber flooded the internet, and news broadcasts Monday.
The impact will be felt around the world, particularly on the oil and gas markets.
"The current situation in Afghanistan is deteriorating, and it's having an effect on the oil and gas markets," said Tim Snyder, Economist at Matador Economics. "Our markets, primarily related to the futures markets, rely on stability, risk assessment, and of course, market fundamentals."
According to Snyder, market fundamentals are something that most viewers see every day in the news, and they're ongoing. When viewers witness the scenes from Afghanistan, it creates a sense of concern, which floats into the markets.
"The markets evaluate this as risk, and they add a premium to this, or they could actually use it as a negative premium and actually force prices down," Snyder said.
The last bastion of control between Iran and China was Afghanistan, as it sits in the middle, according to Snyder. While the impacts might not be significant now, they will reverberate into the future.
 "From a risk standpoint, we continue to see these risk items come in and exit from the marketplace, but right now we're starting to balance risk issues on the negative side, which accelerates the growth toward the downside, and that's something that affects the overall productivity of a market," Snyder said.
*Bloomberg contributed to this content
Follow us on social media for the latest updates in B2B!
Twitter – @MarketScale
Facebook – facebook.com/marketscale
LinkedIn – linkedin.com/company/marketscale
Latest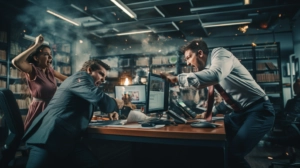 September 22, 2023
The kind of news that is delivered everyday serves as a grim reminder of the escalating violence across the U.S. Evidently, the need for proactive measures to ensure safety has never been more pressing. Such violence is not limited to any particular locale. It's actually permeating in so many different areas once considered […]
Read More