Improved Sustainability & More Resiliency for the Power Grid and the Global Food Supply
In order to improve the health of our planet, businesses must act to reduce their energy usage and carbon emissions. Luckily, the foodservice, cold storage, and energy industries have an incredible solution that adds sustainability and resiliency while better protecting the food: Thermal Energy Storage. Many facilities in these industries run refrigeration equipment nearly non-stop, which accounts for over $40 billion in energy costs per year.
ENERGY EFFICIENT, FLEXIBLE, RESILIENT, AND SUSTAINABLE
Viking Cold is a thermal energy management company that makes cold storage facilities more energy efficient, flexible and sustainable with our thermal energy storage (TES) technology. Our TES technology stores energy in the form of cold and adds more than 25% efficiency, improved temperature stability, and the ability to reduce the enormous refrigeration electricity demand of these facilities for up to 13 hours per day. This added efficiency and flexibility saves cold storage and food service operations up to 50% of their energy costs while better protecting the food. The power grid benefits because now there is a storage technology that economically enables demand management strategies for these commercial and industrial refrigeration loads on the grid. The benefits of TES to the foodservice distribution, cold storage, and energy industries means all parties can economically reduce energy usage and carbon emissions of the cold chain to improve the health of our planet!
Viking Cold Solutions uses an environmentally friendly and food-safe phase change material (PCM), which is housed in self-contained cells mounted in stationary positions throughout the facility and is formulated to the facility's set point. The PCM is frozen at times when energy is least expensive and refrigeration runs more efficiently and when energy costs go up, the equipment is cycled off. This allows the PCM to change from a solid to a liquid, and during this transition it absorbs 300x more heat than the food while maintaining more stable temperatures. Our intelligent controls maintain the desired temperature range while minimizing run time. The remote monitoring and notification service provides real-time temperature and equipment data, alert notifications, daily custom reports, and predictive tools to identify system inefficiencies.
Viking Cold's TES technology improves efficiency an average of 26%, helps avoid demand and time-of-use energy fees, and adds three times longer temperature resiliency. Less energy consumption leads to lower costs, safer food, a more stable grid, and a healthier planet. To learn more about Viking Cold Solutions, give us a call at (832) 781-COLD.
Latest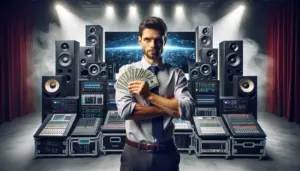 December 8, 2023
Mastering AV sales strategies in a global professional audio-visual (Pro AV) market, poised to reach $79.2 billion by 2028, requires much attention to detail. The surge in demand from corporate, government, and institutional sectors, driven by the need for enhanced productivity and efficient working environments, gives AV sales pros a lot of opportunity. In […]
Read More