It's Time for Hydrogen to Revolutionize Energy
There has been plenty of talk about hydrogen energy in the past few years. Nel Hydrogen CEO Jon André Løkke says it's time for action.
"To be honest, I don't think we need more attention now. I think, now, we need to deliver," Løkke said. "We really need to start to deliver, see some projects, make sure they're executed, make sure they start to run, show that the business gets flies. Then, maybe we deserve some more attention, but I think we've received all the attention we can expect for the time being.
"Now, we need to deliver."
There is little reason to think Nel and the hydrogen energy industry won't be able to achieve their lofty goals. While the COVID-19 pandemic dealt a temporary blow to operations, many nations' recovery plans have included acknowledgments that more needs to be done to decrease reliance on fossil fuel and explore solutions like hydrogen.
Beyond that, hydrogen is beginning to become not just a cleaner solution, but a more economic one than its rivals.
"The big difference is you're going to hit certain very important thresholds. There are two main forces pulling together at the same time," Løkke said. "First of all is the cost-reduction of the equipment."
"When you combine that with the fact that renewable energy keeps going down and the costs of renewables have come down incredibly fast and continue to go down … when you look at building new power plants now, it's cheaper in many places to build solar and wind than coal-fired power plants."
That means fossil parity, putting renewable hydrogen on level footing with fossil hydrogen.
It may not be long until Nel is producing exactly the results that have been talked about.
Follow us on social media for the latest updates in B2B!
Twitter – @MarketScale
Facebook – facebook.com/marketscale
LinkedIn – linkedin.com/company/marketscale
Latest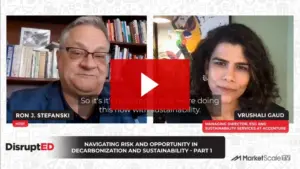 September 26, 2023
The global conversation has shifted dramatically towards decarbonization and sustainability in recent years. With the world experiencing unprecedented levels of disruption, from 5G technology to the challenges of a pandemic, the urgency to address climate change and its implications has never been more palpable. Although most business leaders see the vision of Sustainable Development […]
Read More