Listen: Increasing Efficiency of Solar Energy with Glenn Woodruff

On today's podcast, we chat with Glenn Woodruff from SolarTech Universal. We discuss simple truths about the sun's consistency (and the fact that sunlight is hot), the challenges of dealing with that heat efficiently, the differences between black and… more black, and some steps to take to increase solar energy efficiency in the future.
For more information on SolarTech Universal, check out their website!
Latest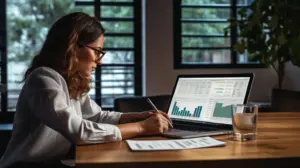 October 4, 2023
The intersection between security and financial acumen often gets overshadowed in a constantly changing economic landscape. While security is essential for safeguarding assets and ensuring continuity, its perceived monetary value is mired in misconceptions affecting company profitability. For many, security is viewed primarily as an expense rather than a potential cost-saver. However, understanding […]
Read More