Bare Necessities: How One Company is Transforming the Delivery of Water and Electricity Around the World
Water and electricity are essentials that many of us couldn't imagine living without. However, an astonishing number of people around the world don't have access to these necessities. According to recent statistics, 1.2 billion people worldwide don't have access to electricity and another 800 million don't have access to clean water.
Troy Billett and OffGridBox are doing something about it.
OffGridBox fills a 6X6X6 foot shipping container with everything needed to set up solar panels for electricity and water purification. Then, they're able to ship these containers anywhere in the world. Installation is fast and efficient, taking just three hours once the box reaches its destination.
These boxes have been used in remote villages, areas affected by natural disasters, and tiny house communities. "The idea is to have a modular system that is useful for each case. We can't assume that every place is going to need the same things," says Troy Billett, the U.S. Director for OffGridBox.
For many of the people who have benefited from receiving one of these boxes, having the necessities of life has opened up a world of possibilities. "It's not just about clean water, it's about what clean water and electricity allow people to do," says Billett.
Follow us on social media for the latest updates in B2B!
Twitter – @EnergyMKSL
Facebook – facebook.com/marketscale
LinkedIn – linkedin.com/company/marketscale
Latest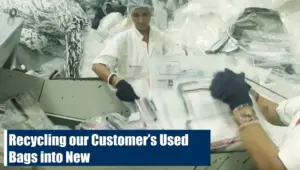 December 6, 2023
This video focuses on EcoLOK4, a groundbreaking product by CONTROLTEK that exemplifies innovation in sustainability. It highlights the process of transforming landfill waste into new deposit bags, with 90% of each bag's material being repurposed trash. This initiative not only reduces waste but also closes the sustainability loop, demonstrating CONTROLTEK's commitment to environmentally friendly […]
Read More