E2B: Energy to Business: Outsourcing Fuels The Future Of Oil & Gas
Customers are often looking for two things as they consider oil and gas back-office outsourcing solutions – thorough data and analytics capabilities through partnerships with experienced energy industry experts that can help them make the most of those actionable insights and cost-effectiveness to make it worth their while.
"They need to have the business data and analytics to run their business – and it doesn't matter if they're investors, non-operating interests or operators," said Carl Wimberley, partner at Opportune. "And they need to have the expertise behind that. They need to know that Opportune has the ability to satisfy and help them transition to an outsourced relationship that will provide them that necessary analytic data. The second thing they're looking for is that it's going to be cost-effective."
Opportune has both a fully staffed back-office and at a cost that makes sense for operators, non-operators and investors looking to do things in a more efficient way, bringing down overhead with a strategy proven to lower general and administrative (G&A) expenses.
"We're able to quantify the cost savings that will occur. For the most part, those cost savings are between 20%-45%." Wimberley said.
These factors all combine to allow clients to focus on the most critical aspects of their operations, driving growth without getting bogged down with tasks that may take time away from that effort.
"It allows all of our clients to concentrate on their core activities. If you're an investor, it allows you to concentrate on investing, rather than chasing down AP invoices or looking for accruals and things like that," Wimberley said. "For our operators, it allows them to drill, complete and operate the wells that's the absolute core function of their business, concentrate on that and that alone, and deal with their investors and constituents."
The outsourcing process also allows for scalability, with Opportune able to both get things up and running quickly and take a more gradual approach. This customization allows for solutions tailored to individual clients' exact operational needs and goals.
"We have the ability, since we own and control our software platform and our technology platform and we're the largest outsourcing provider in the United States, to scale very quickly with our clients, both up and down," Wimberley said.
It all combines to bring to market a solution for many of the back-office headaches that can derail oil and gas companies or take time away from what really matters most.
Follow us on social media for the latest updates in B2B!
Twitter – @MarketScale
Facebook – facebook.com/marketscale
LinkedIn – linkedin.com/company/marketscale
Latest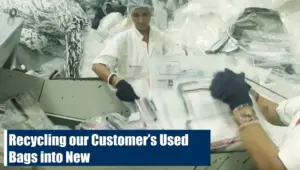 December 6, 2023
This video focuses on EcoLOK4, a groundbreaking product by CONTROLTEK that exemplifies innovation in sustainability. It highlights the process of transforming landfill waste into new deposit bags, with 90% of each bag's material being repurposed trash. This initiative not only reduces waste but also closes the sustainability loop, demonstrating CONTROLTEK's commitment to environmentally friendly […]
Read More