SCHLETTER EVP EDDIE BUGG DISCUSSES NEW TECHNOLOGY AND TRENDS IN THE ENERGY SECTOR
Eddie Bugg is the Executive Vice President of Product Technologies and Applications at Schletter, Inc. He joined the MarketScale Energy Industry podcast recently to talk about new technology in the energy sector. Eddie discusses the changing material usage in the industry, the increasing focus on construction efficiency, and a new application of technology that follows the sun.
He brings a unique perspective to the industry, having worked for Alcoa for 30 years and then First Solar for 5 years, Eddie is no stranger to the solar industry. He saw several trends in the quickly-changing solar energy industry around optimization and efficient practices.
First, the biggest trend in the industry is the push to drive down costs—not just the costs of the solar modules or balance of systems required to display them, but what it costs to erect the product in the field in terms of labor. This is a huge variable for successful projects. Schletter has taken a leadership position in trying to optimize the racking structures that it designs to minimize field labor and the costs of that labor.
Another trend is the effort in the industry toward preserving a site's grade, its vegetation, and the wildlife that is in the area. The long-term footprint of a solar project is key to people in the solar industry. It's the goal of every integrator to install solar systems and ultimately return a site to its original condition after the use-life of the system is complete. So, it's important to minimize the amount of concrete that must be poured to build a solar field and the number of posts that have to be driven into the soil. Schletter engineers are always working to reduce the amount of labor in the field and minimize the disturbances to the site.
Stay tuned to our blog to meet more of your Schletter team!
Read more at schletter.us
Latest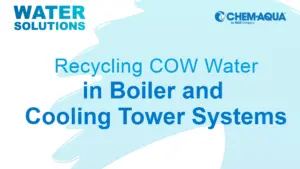 December 7, 2023
For the latest episode of ChemAqua's Water Solutions podcast, the focus was on an innovative approach to water conservation in the dairy industry. The show examined the potential of reusing Condensate of Whey (COW) water, a byproduct of dairy processing, and highlighted some of its economic and environmental benefits. Hosted by Dani Waddell, the informative […]
Read More