AI's Advances in Healthcare Can Save Lives and Money
In recent years, artificial intelligence (AI) technology has emerged as a sort of boogeyman in countless fields. While prominent voices promise that AI will kill jobs across the board, AI has been quietly and effectively becoming an integral part of the healthcare system. The US healthcare system is in crisis, and AI seems to have some life saving answers. Let's explore these issues, AI's role in healthcare, and expectations for the years to come.
It's no secret that the United States healthcare industry faces numerous challenges. From mounting costs, increasing drug-resistance, overtreatment, and a failure to adopt preventative practices, at nearly every turn there's a major roadblock to care.[1] Fortunately, the Health Information Technology for Economic and Clinical Health (HITECH) Act, has created a large database of electronic health records. AI's access to that data has allowed for the development of predictive models and even real-time diagnoses, treatment protocol, personalized medicine, and patient monitoring. But there's more.
With costs soaring, both physicians and patients are more willing to use self-care kiosks or at-home tests for common illnesses like strep throat.[2] These advances are cyclical, as the more information AI has access to, and the better its processing power becomes, the more effective its treatment is. The bottom line, aside from saving lives, is that some report big data saving medicine and pharmaceuticals nearly $100 billion annually.[3] That's not something many facilities can afford to ignore.
 
Latest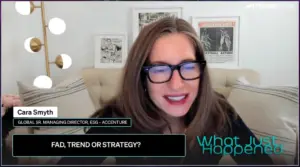 November 30, 2023
The world is in an era where sustainability and responsible retail business practices are increasingly crucial. For the latest episode of "What Just Happened," host Christine Russo further explored the hows and whys of this pressing issue by interviewing Cara Smyth, Global Senior Managing Director for ESG and Responsible Retail at Accenture, and Chair […]
Read More