Cities Must Evolve to Keep Up with Changing Transportation Technology
Ride-share companies like Uber and Lyft have transformed the way people move around, especially in our cities. This change has happened quickly, and there are many more like it on the horizon, including self-driving cars, in-vehicle data connectivity, and perhaps even flying cars and motorcycles. While electric cars are on the rise and are reducing air pollution, individuals' leaving their own cars behind to take advantage of ride-sharing has already created completely different conditions to which cities need to adapt.
One factor that cities must consider is the reality that if people are driving their own cars less, they won't need to park. At the same time, ride-share vehicles' stopping to load and unload passengers can slow traffic and increase problems. Many people are choosing ride-sharing precisely because of issues like limited parking downtown and the heavy traffic. Converting some of the parking spaces to passenger loading spaces is one potential solution to the traffic dilemmas. While fewer parking spaces will likely increase ride-sharing even more by putting more of those vehicles on the road, the traffic relief will more than offset that increase.
This is only the beginning. Cities have to think ahead about the ways in which traffic, public transportation, and other aspects of human mobility will be affected by these new technologies. As technology continues to advance, cities will need to catch up to keep up.
Latest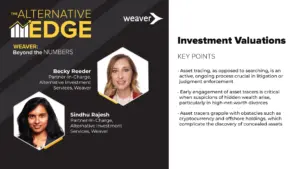 December 4, 2023
In this episode of The Alternative Edge, a Weaver: Beyond the Numbers Podcast, host Becky Reeder, an audit partner and co-leader of the alternative investments practice at Weaver, engages with Sindhu Rajesh, an Alternative Investment Services Partner with Weaver. They unpack the complexities of venture fund valuations, offering critical insights into industry dynamics and best […]
Read More