Cospolich Revolutionizes Galley Equipment Installation with Modular Design
he modular galley design by Cospolich was created to assist Naval shipboard installation and re-outfitting of vessels. Before, the Navy would have to take a ship out of service, and it would cost millions of dollars just to do a galley re-outfitting. Modular design allows galley equipment to be installed without costly cutting and dry docking. Ship personnel can bring equipment on piece by piece and install in small spaces, revolutionizing the way galleys are set up.
The refrigeration is modular, the electrical is modular. Basically, it's a plug-and-play system with a one-of-a-kind design. It can be taken apart, it can be taken down into smaller pieces, and put back together in a relatively short amount of time. It just makes installation simple. To learn more, please enjoy the video.
Latest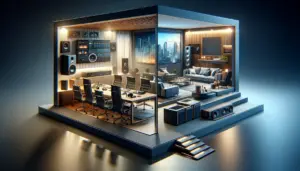 November 27, 2023
In this episode of "Pro AV Today," host Ben Thomas sits down with Audra Kinsley of Sonos Professional to unpack a topic that's causing (sound) waves in the audio industry: the fusion of commercial and residential audio systems. As we navigate through a landscape where consumer and professional audio worlds are increasingly intersecting, Sonos steps […]
Read More