Could Blockchain Drive a Green Power Grid?
If you've seen all the headlines about the exploding value of bitcoin, chances are good you've heard of blockchain—and probably ignored it. But this buzzword technology may have a more useful application than simply minting the latest internet millionaire. It could help revolutionize how we buy our energy, and hasten the arrival of an all-green grid. Now, that's worth paying attention to.
Picture this: you purchase and install a solar panel on your roof. Then you sell the electricity it produces each day at a price set by you. How would this even work? Well, first let's look at how the green energy market functions right now. Independent auditors assess green energy producers, and then these producers sell Renewable Energy Certificates, or RECs, to consumers to offset carbon energy. This REC market drives investment in green electricity production and helps reduce risk for large green electricity producers. This approach, while good for the environment, doesn't help small green electricity producers.
Blockchain could change that by reducing the cost of certification. A blockchain is a continuously growing list of records, called blocks, which are linked and secured using cryptography. Think of it as an open, distributed ledger that can be applied to just about any purpose. For example, a company called LO3 Energy in Brooklyn, New York uses blockchains to store generation certificates created by meters attached directly to solar panels. Blockchain servers can also store transaction records, which eliminates both auditors and transaction costs.
The only obstacle to widespread adoption of this technology to the green power market is scaling issues. Right now, blockchain servers can only handle a few hundred transactions per second; an REC system used by millions of individual solar panel owners would instantly overload.
Still, the basics are in place and the future is looking very green. Innovators are improving upon current blockchain protocols to make a more democrat green energy market a reality.
 
Latest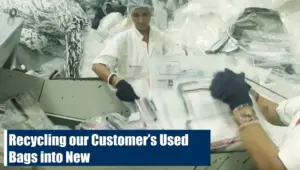 December 6, 2023
This video focuses on EcoLOK4, a groundbreaking product by CONTROLTEK that exemplifies innovation in sustainability. It highlights the process of transforming landfill waste into new deposit bags, with 90% of each bag's material being repurposed trash. This initiative not only reduces waste but also closes the sustainability loop, demonstrating CONTROLTEK's commitment to environmentally friendly […]
Read More