Surreal Growth Forecasted in the Virtual and Augmented Reality Space
While virtual and augmented reality devices may not be as common as a car in every driveway, with the amount spending forecasted in the space, it's only a matter of time before VR/AR technology takes over the world. This as suggested by Chinese analyst International Data Corporation (IDC) which expects VR/AR spending to increase 100 percent or more each year through 2021. The latest report from the group sees total spending in the sector skyrocketing from $11.4 billion in 2017 to nearly $215 billion in 2021; amounting to a compound annual growth rate (CAGR) of 113.2%.
The United States is expected to lead VR/AR spending with 2017 figures hitting $3.2 billion.
Following close behind is the Asia/Pacific region (excluding Japan) with $3.0 billion, and Western Europe in the number three slot at $2.0 billion. The forecast predicts Canada, Central and Eastern Europe, Western Europe, and the United States to experience phenomenal growth in the sector ranging from 145.2% to 120.5% CAGR over the 2016-2021 time period.
Early investors and adopters of VR/AR technology include the consumer, retail, and manufacturing segments. As the transformative and immersive capabilities of these technologies become more apparent, organizations within the government, transportation and education sectors will begin to integrate VR/AR products and services in order to create more efficient and imaginative experiences. While already a multi-billion industry, the virtual and augmented reality space is positioned to see explosive growth in the coming years, and provide smart investors with plenty of opportunities to capitalize on this game-changing technology.
Latest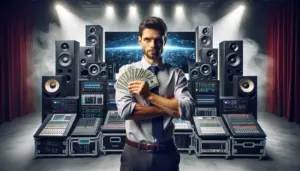 December 8, 2023
Mastering AV sales strategies in a global professional audio-visual (Pro AV) market, poised to reach $79.2 billion by 2028, requires much attention to detail. The surge in demand from corporate, government, and institutional sectors, driven by the need for enhanced productivity and efficient working environments, gives AV sales pros a lot of opportunity. In […]
Read More