The Future of Farming is Airborne and Requires No Pilot
They may be carrying your Amazon packages soon, but it's easy to miss how important drone technologies are for the agriculture industry. Drone-driven solutions account for more than $127 billion in a number of industries, with agriculture among the top three most promising sectors moving forward.[1] Though ag drones aren't exactly new, their use and potential are on a major upswing.
In agriculture, drones can conduct analyses of soil and fields. That means the creation of accurate 3-D maps that can aid the planning of seed planting patterns, provide data for irrigation management, and more. Once the plans are complete, drones are up in the sky planting with an uptake rate of 75% at 15% the cost of conventional methods.[2] Once crops are growing, drones can help manage irrigation, monitor crops for inefficiencies, pests, and potential infections, and spray crops with the exact mixture and amount of chemicals according to terrain and crop needs. Many are asking what drones can't do in an agricultural setting.
In the future, it's been conservatively forecasted that the agricultural drone market will shoot past $1 billion by 2024.[3] As automation and other technological advancements are introduced to the latest models, the market will expand exponentially. Modifications, upgrades, and even more drone solutions will push these powerful machines forward to a productive and cost-saving future.
 
Latest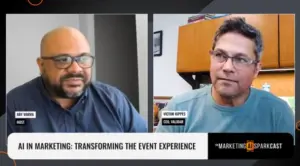 November 28, 2023
AI has been gradually changing the landscape of event technology at a very rapid pace. In an industry where staying ahead of technological trends is crucial, AI's impact on marketing and event management has become increasingly significant. As witnessed in the rise of account-based marketing and enhanced personalization, AI is effectively reshaping how events […]
Read More