Transforming "Dreams" to "Done" with Kevin Collins of Diversified
MarketScale's Shawn Heath did an interview with Keven Collins, President and COO of Diversified, on the Pro-AV podcast. Collins discusses his work on the Statue of Liberty and talks about his dream of bring his AV solutions to The Louvre.
Shawn Heath (SH):     Let's go ahead and get the one traditional question out of the way. Give me the paths that lead you from, say, first year in college to where you are today with Diversified.
Kevin Collins (KC):      I guess everybody has interesting stories. I have a college degree in business communications. My last year of college I got a job with a broadcast integrator as a delivery driver. The work schedule worked around my school schedule. This is in the late 1980s, about 85, 86, and I just was like, what is it that we're doing here? I became very interested in what we were doing, and when I was not busy doing deliveries, I would work on tactically working inside racks and wiring up systems. When I graduated from college, that was a pivotal point in my career. I let the owner of that business know I was working a part time job. I was going to leave and go on a full-time job, and he thought I had shown a lot of interest in the technology and that I have a good way with people, and I should think about trying to get into sales, so he gave me an opportunity to be a junior sales person. And I worked there for seven or eight years. It was a company called Turner Engineering. I became the sales manager over the years through attrition from my performance.
After a while, I joined Fred Delasandro, who's the founder of Diversified, when it was a very small company. It was less than ten of us. And you know I took that journey with Fred from here to today. Some things about the way we work has not changed. Thousands of other things have, but really, we were always hyper-focused from the beginning on the customer's experience and supporting each other as employees to do the best we could. And as we grew our business over time and diversified, we grew it right through the classic hockey stick. We're 25 years old now and it was 1993 when I started with Diversified. The first 15 years was slow, steady, organic growth. The last ten years have been very rapid, I think due to the changing marketplace and the ubiquity of the solutions that we provide here. You know, the spreading out to the market of collaboration, presentation, and the fragmentation of the broadcast industry to selling multiple content outlets so that, with things like the Internet and Yahoo and Amazon, content creation has gone through the roof.
When I started in the business in the 80s, it was really all about the major networks, who could even do AV. As we've matured over the years, we saw opportunities to take our skill sets and diversify our business across multiple verticals. I always saw that, as Diversified has evolved, we really are a creature of what our customers want to see in a company. What we are today I think really epitomizes that. There's the breadth of services that we offer, and there's a common weave between them all which is audio and video, whether that's in our broadcast business or our AV presentation or a medical initiative or even in our I.T., and our network infrastructure capabilities are really to support applications. We've seen the convergence coming for years, and I think we've positioned ourselves to take advantage of that, and that's kind of what's brought me to this place today.
SH:      Looking at the broad spread of the industry you are a part of, I don't know necessarily that you could have picked a better name for the company. The list of things… I just want to run down them: medical innovation, work, media and entertainment, digital media, business consulting, advanced visual environments, sports, mission-critical installations. But I'm really interested in a project that I know you're working on that ties into your verticals: federal solutions. I don't think it's too much of a secret, but can you tell me a little bit about what exactly you're doing for the Statue of Liberty? That is so interesting.
KC:      One of my favorite things about this business is sitting with creative people, the architects, content creators, then coming up with a vision of an experience and trying to bring our engineering prowess to that. I'll make jokes with customers. I'll say, "Listen, you come up with the dream and we'll manage the nightmare of making it work." So, what we're doing at the Statue of liberty is really a visitor experience. So, you're coming to see the Statue of Liberty. It's an interactive experience to tell you the story of immigration to the United States in in a very immersive way. There's lots of LED. There's lots of Touch Interactive to dig down, find out about the history. Even your own personal family. There's ties in some of the screens to Ancestry.com and things like that. There's three-dimensional sound, and it walks you through a story that is being built at the base of the Statue of Liberty. We've been involved with that project at the national park service for three years. We got hired initially under a consulting engagement to just work with their creative tools and the park service to talk about what this customer experience is, what technology is available today, and where we might take this.
SH:      You know as recently as ten years ago you wouldn't have been able to do this project because the technology just didn't exist. But, as I don't have to tell you, the speed of advancement and involvement in technology has allowed you to sort of . . . you probably changed your approach in the three years since you started this project. Now you probably see some things and think, "Oh man, we could have used that two years ago." Talk to me about some of the things that you see evolving really rapidly within the technological aspect.
KC:      Well, using your example, the way we thought we would distribute content with the Statue of Liberty project three years ago involved a digital age and HDMI type of world, and today, now that we're actually building them, we've completely pivoted and are putting in an IP-based solution, in this case it's on MDS, for the content distribution and management of all the different screens. There's several hundred end-points to experience. So that's an example where it's evolving. We try and keep the customers aware of evolutions in technology. The other thing that I think's important for a company like ours is, I will turn it this way, we will bring you to the leading edge on a stable platform but we will not let you go to the deep end. I mean, I definitely have customers who get very excited and want to do things that are, you know, maybe in a sense theoretically possible, but I do try to keep their feet on the ground and say theoretically, yes, we could do this; theoretically this technology is out, but it's not proven. We like to do some proof of performance, we'd like to take it a little deeper before we commit.
SH:      It has to be exciting to see your customers dream, but it has to be much more fulfilling to see your customer's dream done.
KC:      The most satisfying part of the job is to just take it from concept to completion, particularly when the customers are thrilled. You know, that's what I really like about the AV part of our business and experience. There's such an enthusiasm when we come in with the final solution at the end of the day. But in the broadcast vertical, they are so engineering-driven, so technology-driven, we deliver these amazing solutions and they're like, yeah that's what I expected.
SH:      Well let's talk about…you know, the speed of technology seems to dominate most of the conversations I have these days. And the IP transport mechanism that you're talking about is, well, you're pretty close to the leading edge there. I don't want to call you a fibber, but you're pretty close. I mean it's incredibly advanced. Do you see something kind of out there off the edge and you think, huh, that might be the next thing.
KC:      Well, there's a lot of interesting technologies and audio that add to that immersive experience—and video. But I think what's been advantageous to us is across all these verticals, like for example in our broadcast or what we call the AV entertainment business, that IP revolution is much more mature. It will be going on a few more years. We learned a lot.
We're working on a product now in New York for the Hudson Yards for CNN in New York. For so long all shows have come out of New York. And the equipment areas are really data centers; we're really building massive high-bandwidth networks, and the devices that we're putting into the networks are really virtually mounted into a virtual environment. So, to try to explain I what I mean, in this environment, if I'm a video server, I'm just telling you I'm on the network and how many inputs and outputs. I don't have dedicated signals, wires in me. I'm just virtually available on the network. So that has required a change of mindset about how you approach system design, system testing, and the ongoing system maintenance.
As that revolution is quickly catching up on the AV side, we are able to bring to bear a lot of our experience across platforms. I just think that the convergence of everything is to a network, and it really plays into IoT. So, we have a digital signage division where we manage content delivery, through digital signage networks, mostly in retail obligations, to hundreds of thousands of endpoints every day. We monitor the content and the devices in IoT kind of a way. Every device can be monitored on the network and then security comes under play. Let's say we are a security division. One of the advances we have been working on now is a security camera. It's an IoT device on the network. We want to monitor the communication from that device to figure out if somebody is hijacking that video signal. They're not interjecting, they're taking. These advances are a really valuable service to a customer. We can educate them on what they should be aware of and we can provide them with services and tools to manage this sort of new environment.
SH:      All right, so I'm going to put you on the spot here. I give you an unlimited budget. Pick a building or an installation anywhere in the world and you get to retrofit and outfit that building whatever your design architectural desire. You can completely outfit a building, any building in the world. Which one are you choosing, Kevin?
KC:      Well, I'm a classicist at heart. You know, I would pick something like The Louvre in Paris or something like that.
SH:      Yeah, I don't know if visitors are going to be extremely thrilled to see the Mona Lisa on an OLED screen. But, hey, you know…
KC:      Well, people need to be educated about the art they're looking at. I can think of a lot of creative things we can do to enhance the experience and the understanding of what it is you're actually looking at and feeling.
SH:      Well, talking about that idea of being able to outfit a building, you've now given me another reason to want to go to New York once all the snow melts. I am definitely going to see your Statue of Liberty. I'm very excited about that. That's something that seems like a thing I must go see.
KC:      Yeah, I encourage anybody to go online and Google it. You can see some of the monitors and stuff. But the actual experience, I would be willing to host you and walk you through it.
SH:      I will take you up on that sir. Today I've had the pleasure of talking to Kevin Collins the president and COO of Diversified. Kevin, thanks for taking the time today. It really has been appreciated.
You can listen to the full podcast here.
Latest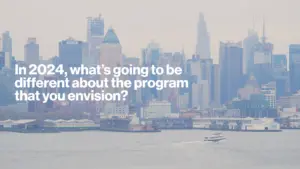 December 1, 2023
In the dynamic telecommunications landscape, Verizon's Partner Network continues to evolve, adapting to new trends and opportunities. For another segment featuring Mark Tina, VP of Indirect Channel Distribution and Channel Chief at Verizon Business Group, he explores exactly what types of significant changes and advancements the Verizon Partner Network will see in 2024. In this […]
Read More