Average Drive-Thru Wait Times Surpass 6 Minutes. Should QSRs Look to New Conveniences?
With consumer expectations of near "instant gratification" increasing thanks to companies like Amazon, quick service restaurants (QSR) are thinking of ways to keep up with and satisfy the trend. Kentucky Fried Chicken (KFC) has this challenge at the forefront of their operations and are testing options to decrease drive-thru wait times.
Currently, drive-thru wait times average six minutes and 22 seconds per guest, and KFC is determined to decrease that statistic through a Quick Pick-Up option — a new feature allowing customers to order online, skip the line and pick their order off a climate-controlled shelf.
In this five-part video series, five QSR professionals help listeners understand the market motivators shaping new technology and business model adoptions, as well as what the future holds for drive-thrus and QSR convenience.
1.The State of QSRs
Brent White, VP of Gauge Capital, commented on how during the pandemic, QSRs leaned on their drive-thru functionality to remain open. However, the sudden labor shortages across the industry are increasing wait times, and third-party vendors' price increases are causing QSRs to also increase prices. White predicts that consumers and third party delivery services will see more channels for making purchasing and retrieving orders quicker in the future because of the pandemic.
"Technology has played a big part in the pandemic, the restaurant space has fit 10 years of technology in one year." -Brent White
2.How COVID-19 Has Shaped QSRs
With QSR sales dropping $7B from February to April in 2020, Zaid Ayoub, CEO of SAJJ Mediterranean, similarly noted how QSRs expanded and relied upon drive-thrus during the pandemic. In fact, 88.5% of consumers utilized Pick-Up or drive-thru later that fall, and, as one can see in the graph below, Ayoub doesn't see that trend slowing down anytime soon, which is why he believes pick up should be an item that needs to prioritized.
How Consumers Bought Fast Food in November 2020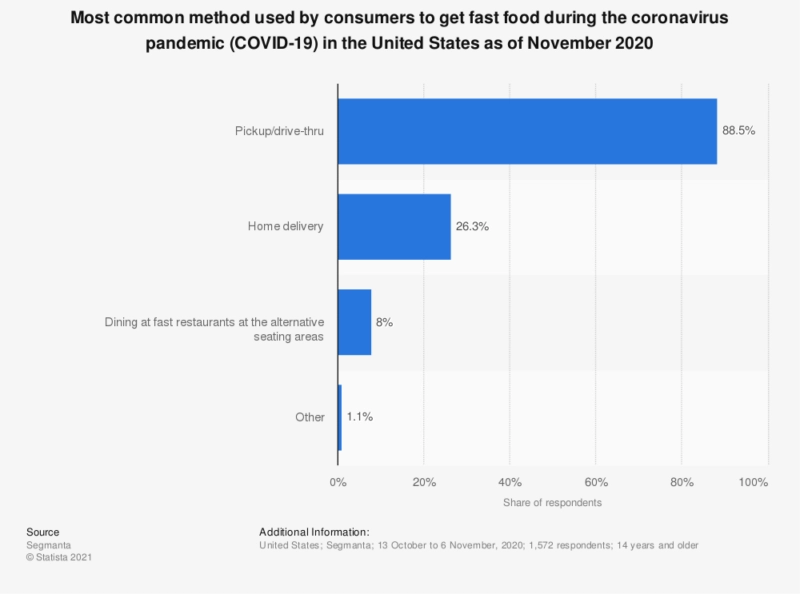 Ways Restaurants Plan to Change Business Model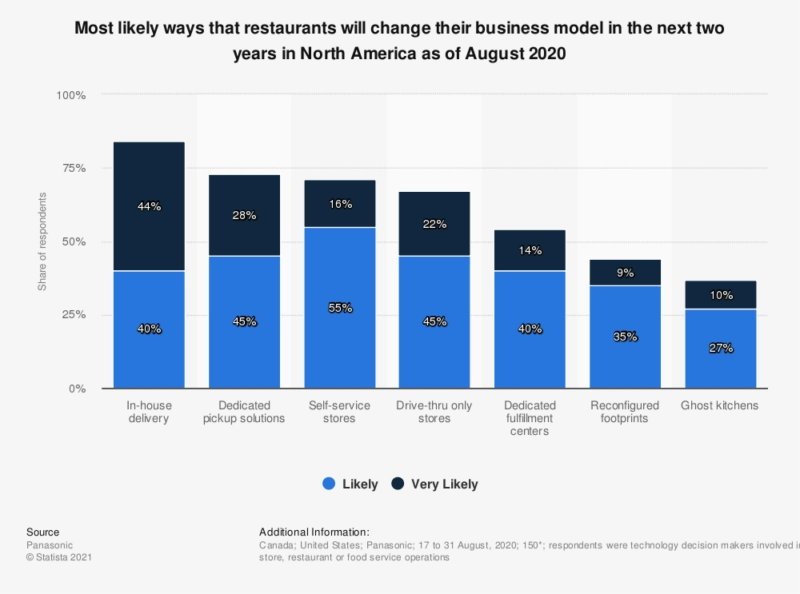 "Pick up is still the means, bigger than delivery in terms of percentage of sales for any restaurant. That is something I believe most operators need to pay attention to and make the process frictionless and to be able to allow the customers to get their food in any way that they would like it." -Zaid Ayoub
3.How Quick Pick-Up Will Help
Expanding upon those novel functions, Robert Wolcott — co-founder and chairman of The World Innovation Network and Northwestern adjunct professor — discussed how the Quick Pick-Up option could decrease the demands on the already-limited staff. However, he warned that it should be tested in various locations and various ways to effectively utilize the function and adapt to customer needs. Wolcott states this reminds him of how some McDonald's franchisees utilized kiosks to service commuters who were just ordering coffee and milkshakes in Florida 15 years ago.
"If you wanted a full breakfast you went into the store or you went to the drive-thru line, but if you were just there for a milkshake you could pick it up much more efficiently near the road and be on your way." -Robert Wolcott
4.Will Quick Pick-Up Work?
Wolcott wasn't the only one to think about the complications of a Pick-Up option for QSRs. Dr. Kevin Bessy, founder and CEO of Humdinner, pointed out that the Quick Pick-Up option could have accessibility consequences for the disabled community, like layout and shelf height to even parking and traffic flow. Additionally, Bessy discussed alternate options, such as multi-lane drive-thrus or other technology improvements that he believes could have more of an impact than KFC's Quick Pick-Up option.
"I believe what KFC is doing will not change the industry, will not be a long-term solution for them and I believe the drive-thru is here to stay and I think you will see a whole new revolution in the drive-thru that's already been happening and is going to continue to happen." -Dr. Kevin Bessy
5.Why Drive-Thrus Are Still Reliable
Senior Director of Operation Services for Farmer Boys, Michael Berumen, thinks reworking a QSR's strategy and operations may be a more economical and easier approach than instilling risky new functions like Quick Pick-Up. This could be seen as improving drive-thru technology or even using employee competition to increase efficiency. However, Berumen agreed with Wolcott that adding new technology like the Quick Pick-Up could only benefit QSRs going forward.
The drive-thru role will be redefined by the implementation of technology and the overall guest experience. Restaurants will find new ways to modernize the experience making for both a seamless guest journey and a more labor efficient experience for the restaurant." -Michael Berumen
Clearly, the QSR industry is seeing some big changes, and reimagining the fast-food service standards and options is one of them. While the pandemic hurt profits in the industry for many, one positive to come from COVID-19 are the innovative solutions to make restaurant service quicker and more efficient.
Latest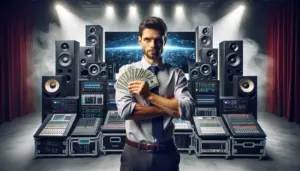 December 8, 2023
Mastering AV sales strategies in a global professional audio-visual (Pro AV) market, poised to reach $79.2 billion by 2028, requires much attention to detail. The surge in demand from corporate, government, and institutional sectors, driven by the need for enhanced productivity and efficient working environments, gives AV sales pros a lot of opportunity. In […]
Read More