Companies React as Consumers Demand More Sustainability
Companies worldwide have been pushing toward sustainability over the past few years, meeting demands from a more earth-conscious population and particularly the demands of millennials, who are prone to seeking out packaging solutions with a negligible environmental impact. Although the 2008 recession shifted consumer attention back to lower prices, the recovery has once again made sustainability a priority. A key strategy for meeting this demand in Original Equipment Manufacturers (OEM) and material suppliers involves innovating reliable means of producing minimal and recyclable packaging.
Though many see the push toward recyclability as a hamper on costs, the truth is that sustainability is a differentiator in a crowded market, especially for food and beverage companies. Amazon has worked with manufacturers to develop its Certified Frustration-Free Packaging Program, wherein they commit to customers that any certified item ordered is recyclable. This program has a double-effect: it gives Amazon a competitive edge, and it meets the demands of socially and environmentally conscious consumers.
It's not all innovations and advantages, however. Machine builders continually face new challenges. For example, recyclable materials like hDPE, rPET film, and others are less uniform than their thicker, non-recyclable counterparts. This issue creates a push for OEMs to build better machines that maximize production speed while dealing with the thinner, more fragile recyclable materials. While these are short-term headaches, they create long-term solutions, resulting in machines that minimize impact. Customers are noticing these efforts, and they are responding with their wallets.
Latest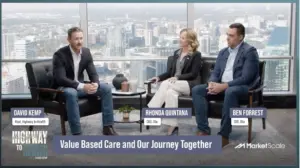 December 7, 2023
As of recent times, the healthcare industry has been progressively shifting towards value-based care, a model that emphasizes patient outcomes over the quantity of services delivered. This transition represents a significant shift that promises to enhance patient experiences and outcomes while controlling healthcare costs. With a growing emphasis on this approach, especially over the […]
Read More