Is Holistic Nutrition the Answer for Improving Overall Nutritional Needs?
In the latest episode of the podcast "There's More to IT," host Jason Claybrook brings on his wife Niki, and diverges from technology to discuss maintaining healthy-eating habits, as more and more people return to work traveling as pandemic restrictions ease. As a holistic nutrition consultant based in Texas, Claybrook consults clients that have a variety of nutritional needs.
She clarified that general nutrition and holistic nutrition greatly differ, with the latter specifically being a more targeted and all-encompassing method of nutritional wellness.
Claybrook stated "holistic is looking at the whole person. So I am not just looking at your nutrition level, I am looking at your stress level, your sleep, and how you manage both — that go into your diet," said Claybrook.
Though food in general is important in managing day-to-day vitals, there are other important factors that come into play in its management. In fact, these factors often have as much, if not more priority in one's diet because they have to work in conjunction for overall success.
"It matters because if you don't take care of stress and your sleep, your nutrition doesn't do its job. So the more you can manage your stress levels, the more you can manage your sleep, that will make your nutrition journey a little bit more effective," said Claybrook.
Claybrook stated that with all the processed foods and mass production, it is an uphill challenge to maintain a healthy lifestyle. However, with proper education and understanding of what your body needs, a suitable nutrition plan that will keep you physically and mentally nourished is ideal.
But for those who have to travel for work, maintaining a standard can be difficult. But Claybroook recommends what she describes as 80/20 – a ratio of healthy and not-so-healthy foods. By having mostly healthy eating habits, and incorporating a small part of your diet to unhealthy foods, it won't have a major effect that could set someone off course.
Eating out isn't as much a problem as it is the portion sizes given. She advised that getting ahead of how much you consume is key to staying on track to the typical recommended portion sizes. Her solution is reserving a portion of your meal for another time.
"I tell a lot of clients … to basically ask immediately for a to-go container, and basically take half of what's on their plate, put it in a to-go immediately, and then set it off to the side. So you're not tempted to eat it," said Claybrook.
Claybrook advocates for prioritizing whole foods over everything. She found success in helping one of the couple's daughters discover the source of her constant migraines and anxiety concerns. By effectively eliminating gluten, foods with certain dye colors, and other ingredients, their daughter's migraines reduced and she was anxiety-free. She described that a lot of health issues correlate with someone's personal nutrition, but the holistic view is the direction for efficiency.
More Stories Like This:
Latest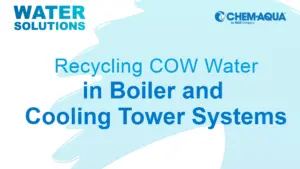 December 7, 2023
For the latest episode of ChemAqua's Water Solutions podcast, the focus was on an innovative approach to water conservation in the dairy industry. The show examined the potential of reusing Condensate of Whey (COW) water, a byproduct of dairy processing, and highlighted some of its economic and environmental benefits. Hosted by Dani Waddell, the informative […]
Read More