Phononic + KPI Partnership Recap
BELTON, MO and DURHAM, NC (June 23, 2022) – KPI Integrated Solutions (KPI), a leading supply chain consulting, software, systems integration, and automation supplier and Phononic, the global leader in solid state cooling technology, today announced a partnership to provide sustainable cold chain solutions that serve the retail grocery and food industries. Combining KPI's warehouse operations design expertise with Phononic's sustainable Actively-Cooled Tote technology, the two companies have partnered to develop and integrate scalable solutions to maintain cold chain integrity and traceability through all phases of the distribution process. KPI's innovative automation designs will now be able to utilize Phononic's sustainable Actively-Cooled Totes for cold chain applications, from the warehouse to the curb.
The approach enables grocery retailers and food companies the ability to deploy automated, temperature-controlled solutions in an existing footprint, avoiding large upfront capital costs while drastically lowering operating labor and maintenance costs. It also greatly improves the overall employee experience by addressing one of the largest contributors to labor attrition in grocery retail: the need to work within frozen environments. This solution provides employees a much more comfortable workspace by avoiding the demand for work in such spaces. Additionally, Phononic's solid state cooling and refrigeration innovation uses a safe and sustainable refrigerant: H2O mixed with naturally available CO2, featuring a Global Warming Potential (GWP) of just 1 or less. This approach produces the safest and lowest GWP rating in the industry compared to other commonly used refrigerants that contribute to climate change.
Source: https://phononic.com/resources/kpi-integrated-solutions-and-phononic-form-a-strategic-partnership/
Latest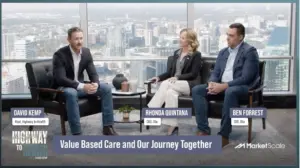 December 7, 2023
As of recent times, the healthcare industry has been progressively shifting towards value-based care, a model that emphasizes patient outcomes over the quantity of services delivered. This transition represents a significant shift that promises to enhance patient experiences and outcomes while controlling healthcare costs. With a growing emphasis on this approach, especially over the […]
Read More