Tossing out the Cash Register is Making Restaurants More Money with Kris Bartel of ZIVELO
As technology progresses, so does the tech-savviness of modern customers. This has led to an upsurge in expectations, with consumers choosing to shop in locations which provide that same level of technological urbanity. As the world becomes more and more fast-paced, consumers are looking for quick-shopping alternatives that gets them in and out quickly, leading to rapid growth within the interactive kiosk market. This is particularly true for the food service industry.
With competition amongst restaurants at an all-time high, interactive, kiosks are engaging and appealing to customers, helping to create the optimal guest experience while providing business boosting advantages to outpace the rest:
During busy mealtime rushes when long waits can deter potential customers, a free-standing kiosk represents another ordering avenue, decreasing wait lines by allowing customers to see all the menu options, then order and pay securely easily at their own pace, thereby personalizing the experience.
Kiosks provide more targeted up-selling that may result in an increase in purchases. This may even include a desert minus the guilt that some customers may feel ordering from an attendant.
Also, mistakes that often accompany the ordering process, such as an unheard request by a customer or an incorrectly entered item, are greatly moderated, as orders placed on kiosks can be checked prior to payment and order submission.
A kiosk also improves data collection, allowing operators to measure buying habits and patterns, while capturing additional data through quick surveys that don't delay other customers waiting in line.
Further, restaurants can showcase promotions and specials and increase loyalty enrollment participation via interactive kiosks.
Joining MarketScale's Food & Beverage Podcast is Kris Bartel, Chief Business Development Officer of ZIVELO. Founded in 2008, ZIVELO is a public computing technology company that offers self-service kiosk and digital signage solutions. By offering a sleek and sophisticated product design and an intuitive user experience, ZIVELO has rapidly grown to become the leading self-service technology brand utilized in a vast array of industries. Today, Kris discusses his background as a former executive at McDonald's and how that helps inform his current role at ZIVELO. He also explains the benefits and tangible results (up to 30% ticket increases!) of kiosk adoption in restaurants, the psychology behind kiosk ordering, as well as the length of time it takes to fully integrate a new restaurant into the world of kiosks.
"We're seeing such a growth in this space, and not just in QSR, but we're also seeing it in fast-casual and casual dining where we have some companies that we're working with where they're doing some check-in kiosks. So, imagine going to one of your favorite sit-down restaurants on a Saturday night and there's a half hour wait. Well, instead of walking in and seeing that there's a half hour wait and then walking back out, get signed up on a kiosk, get yourself checked in, order a drink, have it brought to you while you're waiting there in the lobby," Bartel said.
"Now, you can just kick off that order when the person is, before the group has sat down, and then the result is that you end up getting a higher check because now you're serving drinks earlier, you have them in the restaurant longer but not necessarily at a table, and you're turning more tables every night, so you're getting more people through the restaurant."
For the latest news, videos, and podcasts in the Food & Beverage Industry, be sure to subscribe to our industry publication.
Follow us on social media for the latest updates in B2B!
Twitter – @FoodMKSL
Facebook – facebook.com/marketscale
LinkedIn – linkedin.com/company/marketscale
Latest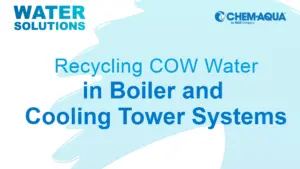 December 7, 2023
For the latest episode of ChemAqua's Water Solutions podcast, the focus was on an innovative approach to water conservation in the dairy industry. The show examined the potential of reusing Condensate of Whey (COW) water, a byproduct of dairy processing, and highlighted some of its economic and environmental benefits. Hosted by Dani Waddell, the informative […]
Read More