Watch: First Data Invests in Restaurant Software Company Salido
Salido, a restaurant software startup, has raised $12 million in Series A funding, with First Data as an investor. Salido's point-of-sale hardware and software can extract customer data for restaurants. The program details exactly what customers order, how much money they spent, and details how much time their customers spend at the table.
Restaurants will then be able to tailor decisions based on what their customers are into. Salido's technology will be integrated into some of First Data's Clover products, according to a statement. The announcement comes as First Data launched their own Clover Mini and Clover Flex products in Germany and Austria.
Latest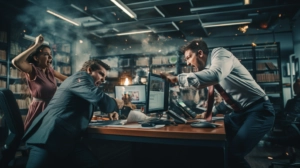 September 22, 2023
The kind of news that is delivered everyday serves as a grim reminder of the escalating violence across the U.S. Evidently, the need for proactive measures to ensure safety has never been more pressing. Such violence is not limited to any particular locale. It's actually permeating in so many different areas once considered […]
Read More