A Pulmonary Expert Weighs in on the Johnson & Johnson COVID-19 Vaccine's Pause
The mission of Health Matters is to promote health equity by elevating the conversation around healthy habits, preventative health, and relevant public health issues. By approaching these topics with an equitable lens, we can all do our part to empower individuals to make more informed decisions about their health and care.
On this episode, hosts Dr. Jose Medina-Inojosa and Alisa Johnsrud talked with Jonathan Baktari, MD, about the Johnson and Johnson vaccine pause due to potentially fatal blood clots after one American died and one is in critical condition. Baktari is a pulmonary and critical care expert, vaccine expert, CEO of two medical companies —e7Health.com and US Drug Test Centers.
"It's interesting. The mRNA vaccine has been around for ten years" -Jonathan Baktari, MD
The trio talked about the Johnson and Johnson vaccine and the importance of the other vaccines. Baktari said the vaccine would be part of the solution to get to herd immunity, so even though it's currently delayed, it will be an essential piece of the puzzle. The Moderna and Pfizer vaccine use mRNA to introduce the virus, while the J&J vaccine uses the adenovirus.
"It's interesting. The mRNA vaccine has been around for ten years," Baktari said. He elaborated that nobody had the guts to use mRNA because folks would have been hesitant to inject genetic material. The pandemic, however, forced us to use the technology.
Vaccines have always been a sensitive subject, as some don't want to use vaccines. For Baktari, he doesn't understand the hesitancy. He noted that people are still so willing to use antibiotics and other drugs, but they don't like it when it comes to vaccines. One of the reasons he thinks is because the government advises it.
–
Follow us on social media for the latest updates in B2B!
Twitter – @MarketScale
Facebook – facebook.com/marketscale
LinkedIn – linkedin.com/company/marketscale
Latest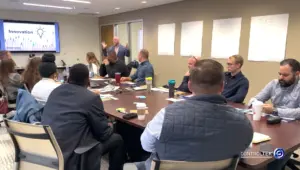 December 4, 2023
The video captures highlights from the CONTROLTEK Design Thinking Workshop specifically tailored for Burlington Stores. It shows interactive sessions, engaging group activities, and innovative brainstorming, emphasizing CONTROLTEK's commitment to developing customized retail solutions in collaboration with the Burlington Stores team.
Read More