Bariatric Equipment Considerations
According to the World Health Organization, worldwide obesity has nearly tripled since 1975, and in 2016, more than 650 million adults were considered obese.1 As average body weight continues to rise, there is a pressing need to address how healthcare workers can provide effective care while preventing injury to patients or themselves. A better understanding of bariatrics, the branch of medicine that deals with the causes, prevention, and treatment of obesity, will help identify potential sources of injury and the available solutions to control and prevent them as part of an effective risk management program.
What is Bariatrics?
Bariatrics is a field of medicine that addresses diet, exercise, and behavioral therapy for weight loss, as well as more extreme approaches such as drug treatment and surgery.2 The term is often used as a product category as well, such as a medical supplier featuring "bariatric" hospital gowns and hospital beds for large patients. Bariatric patients with a Body Mass Index (BMI) above a healthy range are at a much higher risk of medical issues, including heart disease, diabetes mellitus, cancer, asthma, obstructive sleep apnea, and chronic musculoskeletal problems.3
Bariatric Patients Have Unique Issues
Bariatric patients may experience pain, discomfort, and other issues during patient-handling tasks due to a variety of medical conditions.4 These conditions include joint instability, unstable spine, edema, poor skin integrity, and respiratory or cardiac problems. Patients with a history of falls, or those who have amputations, splints, fractures, paralysis or paresis are at even greater risk of injury. Manual mobility and patient handling may be challenging while caring for bariatric patients and could result in injury to the patient or to the care provider. In addition, standard equipment such as beds, side chairs, toilets, and lifting aids, are typically rated for persons less than 250-300 pounds.5 If the patient exceeds this weight, specialized equipment may be required.
Addressing the Risk of Injury to Staff when Handling Bariatric Patients
There are a number of strategies to help minimize the risk of injury to caregivers when handling bariatric patients. The healthcare industry has traditionally promoted body mechanics training as the answer to preventing injuries during patient-handling procedures, but this approach can be ineffective for activity involving larger patients. Mechanical lifting aids can help, but equipment failure may result when weight limits are exceeded. With obesity rates on the rise, ambulatory care centers must be prepared in advance to meet the unique needs of larger patients. Effective patient handling requires a combination of formal patient evaluation and handling procedures, safe lift policies, lifting aids, and specialized bariatric equipment designed for higher weights. Although this may require additional capital outlay, the cost of work-related injuries generally far outweighs the cost of new equipment.6
The Types of Equipment Needed for Bariatric Patients
Outpatient care facilities should focus on the goal of providing safe, respectful, and quality care to patients of all sizes. Specific requirements may vary, depending on the services provided at each ambulatory care center; however, the following equipment should be considered to ensure proper care for larger patients:
Exam Tables— Standard tables typically have weight capacities of up to 400 pounds, while bariatric exam tables are rated up to 800 pounds.7Specialized powered tables may be lowered to as little as 18 inches above the floor to help those with reduced mobility and facilitate transfer from a wheelchair to the table. Wider tables are also available to comfortably and safely accommodate larger patients.
Scales—Many standard model scales will not accommodate bariatric patients. Wheelchair-accessible and standing scales are available with weight limits of 800 pounds or more. Facilities should consider purchasing models with built-in hand handrails to help stabilize patients during weighing.
Sphygmomanometers—Standard blood pressure cuffs may not accommodate the upper arm circumference of bariatric patients, so having extra large blood pressure cuffs on hand is essential for monitoring the vital signs of extremely obese patients.
Patient Lifts—Portable lifts typically cost less than fixed lifts and provide greater flexibility to be moved to where they are needed. However, they require dedicated storage space and may be difficult to locate when needed. Fixed lifts offer a greater weight capability, but have a higher capital cost and are more suitable for dedicated bariatric areas.
Wheelchairs—Bariatric wheelchairs are essential for transporting extremely obese patients who may be unable to walk to and from their destination in the healthcare facility. Standard wheelchairs typically measure 26 inches wide by 26 inches deep. However, ergonomically designed for ease of movement with an increased weight load, bariatric wheelchairs are available in broader widths spanning 35-39 inches and depths of 26 inches.8
Stretchers—Bariatric stretchers are available that can accommodate patients up to 700 pounds. Other features to consider include powered hi/low stretchers that help facilitate patient transfer and positioning, integrated scales that can be used for patients with reduced mobility, and self-propelled stretchers that protect staff from the strain of transporting an extremely obese patient.
Diagnostic Imaging Systems—Imaging table capacities vary, with a typical maximum load of 350 pounds. Bariatric-capable systems and open MR units may accommodate patients up to 550 pounds. It should be noted, however, that radiation doses are a major concern when imaging larger patients. For imaging systems to penetrate the increased tissue mass of an obese person, more ionizing radiation is necessary to obtain a diagnostic image, more than doubling the overall risk of radiation-caused cancer than that of normal-weight people undergoing X-ray9 —a crucial factor that should be considered by both the patient and provider.
Operating Room Tables—Bariatric OR tables are available with weight capacities up to 1,000 pounds and in larger sizes to accommodate larger patients while maintaining full articulation capabilities. Side extenders and foot boards are also available.
Toilets and Grab Bars—Floor-mounted toilets should be used instead of wall-mounted toilets, which may only have a weight capacity of 350 pounds. Grab bars and additional reinforcement are also essential for safety and accessibility.
Furnishings—Oversized chairs should be available in exam rooms and other patient areas, as well as in public areas, such as lobbies and waiting rooms. Typical oversized chairs measure 31-34 inches wide by 25.5 inches deep.10 However, weight and size limits vary considerably between manufacturers and models of bariatric furniture, so facilities should carefully assess the specifications of equipment to verify safe functionality.
Considerations When Selecting and Using Bariatric Equipment
Facility managers should ensure they're prepared for bariatric patients rather than trying to make accommodations once they arrive at the door. When ordering equipment, consider not only a larger size but weight capacity as well. Also, elevator size, hallway dimensions, and door openings should be measured to ensure equipment can be transported and installed. And clearly mark weight capacities on all equipment so staff can quickly ascertain whether it will accommodate the patient.
AliMed's bariatric solutions facilitate safe patient handling and quality care for larger patients and reduce safety risks to both patients and staff. Our bathroom and bathing equipment help ensure the safety and comfort of your plus-sized and obese patients. Wall-mounted toilet seats and risers handle higher weight capacities and make it easier for overweight patients to get up from the toilet. To accommodate both weight and size, all of our bariatric-rated seatingoptions are extra-roomy as well as durable. We offer wheelchair options made with shear-reducing gel or pressure-reducing memory foam that will support heavy weights. To find out more about all of our bariatric solutions, please visit https://www.alimed.com/bariatrics/.
References
Latest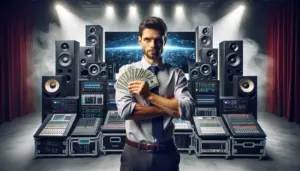 December 8, 2023
Mastering AV sales strategies in a global professional audio-visual (Pro AV) market, poised to reach $79.2 billion by 2028, requires much attention to detail. The surge in demand from corporate, government, and institutional sectors, driven by the need for enhanced productivity and efficient working environments, gives AV sales pros a lot of opportunity. In […]
Read More