Case Study: Benefits of Post-Acute Nursing Facility vs. Home Care
When a patient is released from the hospital, patient advocates often believe their best chance for recovery and avoidance of readmission is in-home medical care and rehabilitation versus admittance into a skilled nursing facility (SNF). During hospitalization, however, it's challenging to envision the in-home post-acute care needs for each unique patient. Thus, it's not a simple narrative on which option will best facilitate a quick and full recovery.
The Determining Factors
To gain better insight, a study by Penn State University Leonard Davis Institute of Health Economics (LDI) looked to determine the differences in 30-day readmission rates, 30-day mortality rates, functional outcomes, and Medicare costs between those patients discharged to home health and those to an SNF. The assessment factors were unique in that the research used a large data set (17 million Medicare beneficiary hospitalizations), controls for patient characteristics across care settings, and included patients with many different ailments.
The Findings
During 2010 and 2016, of the more than 17 million discharges considered in the study, over 40% of the patients received some type of post-acute services—39% were released into a home care setting and 61% to an SNF. While those discharged to home rehab had a 5.6% higher readmission rate at 30 days than those in the SNF category, it is assumed that the 24-hour monitored care and higher level of treatment provided by an SNF reduced the likelihood of post-acute complications. However, the slightly higher readmission rates of home-recovery patients were not attributed to life-threatening symptoms such as respiratory failure but were based on potential cautionary reasons at the caregiver's or patient's discretion.
When it comes to costs, the average savings per patient discharged to in-home care was $5,385 less than patients admitted to SNFs. Further, the total Medicare payment within the first 60 days following hospitalization was also less for the home health care group, with a savings of $4,514 per patient. Interestingly enough, though, the study found no difference in improved patient functionality from the home health setting versus a SNF, nor were their disparities in mortality rates between each group. While the study correlates fewer readmissions with SNFs, these facilities did incur significantly increased Medicare spending per patient.
Clinicians must be able to balance the benefits of both settings to ensure the best outcome for their patients. Additional research to better understand which patient profiles would most benefit from SNF care or may be less likely to be readmitted after discharge to home health care could provide vital insight for caregivers and hospitals alike.
Help for Home Caretakers
When a patient is released to in-home care, their family or friends are often the ones tasked with helping in their recovery. This care typically involves changing dressings, managing medications, and the operation of fundamental medical equipment. AliMed is committed to providing patients and caregivers with a wide selection of quality at-home specialty healthcare products designed to improve quality of life and promote safer, easier, and more independent living. Click here to learn more.
Latest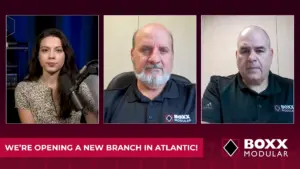 December 4, 2023
In an era where construction innovation is reshaping the industry, modular construction's growth continues to rise. In this episode of Built Modular, Boxx Modular's strategic expansion into Moncton, Atlantic Canada takes center stage. Host Gabrielle Bejarano welcomes Charles Landry and Ray Girouard to explore the implications of this venture. Bejarano, Landry, and Girouard discuss […]
Read More