The Role of Mentorship and Professional Organizations in Healthcare
These days there are a number of avenues for individuals to dive into the healthcare industry. Gone are the days where proficiency in medicine was the only requirement for a career in healthcare.
That has certainly been the case for Kevin Stevenson, who has worked with various healthcare organizations for over 30 years with expertise in operations, strategy, network development, marketing and crisis communications. On this podcast Kevin discusses his journey into healthcare and shares some practical career advice for anyone interested in joining the industry.
From his entrance into healthcare to his current role as Executive Vice President for the North Texas region of IntegraNet Health, Kevin has seen the positive effects of industry professionals who are willing to provide guidance to newcomers.
"It speaks to the type of people that enter our industry," he said. "We are, for the most part, servant leaders. We're looking for ways to serve not only our patients, our constituents, our doctors or whatever, but really the community and humanity as a whole."
Listen to the full interview for more on professional healthcare organizations and how they can be beneficial for industry professionals.
Latest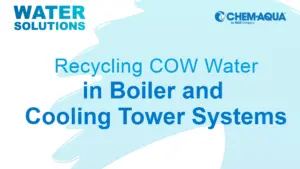 December 7, 2023
For the latest episode of ChemAqua's Water Solutions podcast, the focus was on an innovative approach to water conservation in the dairy industry. The show examined the potential of reusing Condensate of Whey (COW) water, a byproduct of dairy processing, and highlighted some of its economic and environmental benefits. Hosted by Dani Waddell, the informative […]
Read More