Controlling Health Care Costs by Listening to Patients
It's no secret that the cost of health care in the U.S. has reached critical proportions. Estimated to be in the trillions annually, finding ways to cut costs is an urgent matter. While medical care has a lot of moving parts with issues that are complex to navigate, there may one simple solution: listen to patients.
Fortune Magazine's Brainstorm Health conference, held in Laguna Niguel, California, earlier this month, assembled industry leaders for a discussion led by the senior vice president of Diabetes Care at Abbott, Jared Watkin. Watkin described its new, more compact and affordable blood sugaring monitoring device. The device replaces a former version that was too bulky and pricey for users. Abbott's goal was to better meet patient needs, as learned by listening to them.
Katherine Steinberg, vice president for the Center for Healthcare Transformation at Avalere Health, had something to offer on the subject, as well. Steinberg recalled that while working at UCLA, she participated in sessions in which patients were invited to talk to doctors and product developers at the hospital and encouraged to share their specific needs. One critical piece of knowledge they gained is that post joint replacement patients experienced a lack of support. Thus the hospital began discussing ways to better partner with this group of patients transitioning back home and learning to live with their new knee or hip.
Likewise, Dr. Toby Cosgrove, former president and CEO of the Cleveland Clinic, shared insight into that hospitals' cost-cutting measures, based in doctor-patient engagement practices. Patients were given a voice regarding their perceptions and concerns with costs of various aspects of care, and doctors were educated about the realities of the price-tag attached to their decisions for patients. They also implemented group sessions in which 12 patients with a similar medical problem would meet and have open discussions about their care with a doctor from that specialty.
Read more at Time
Latest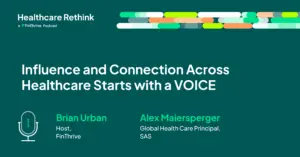 September 29, 2023
In the latest episode of the Healthcare Rethink podcast, presented by FinThrive, host Brian Urban sits down with Alex Maiersperger, the Global Principal Healthcare at SAS. Their conversation charts the role voice plays in influencing and connecting the healthcare industry. Maiersperger, who co-founded the Advancement League, shares his journey from being a healthcare optimist to […]
Read More