Have you examined your medical carts lately?
Medical carts play a vital role in healthcare practices. Lightweight, customizable, and easy to use, these carts provide quick and convenient access to essential medical supplies. There are a variety of specialized medical carts available to serve each facility's unique requirements. Some facilities prefer to customize and stock their own carts, while others choose the convenient option of ready-made carts. However, it is essential to ensure any product meets compliance standards.
There are different types of medical equipment carts
There are a variety of medical cart configurations to fit the needs of medical facilities :
Medication Carts – A medication medical rolling cart provides healthcare facilities with easy access to common, regularly used medications. These carts typically have a greater number of storage spaces than other carts. Also, many have safety features, such as self-locking drawers to keep medication secure.
Bedside Carts – A nurse or doctor can bring a bedside cart with them to treat recovering patients when additional care is necessary. Most have locking drawers, keeping medical supplies safe when carts remain in the room after a patient has been seen.
Point of Care Carts – Point of care (POC) carts are used during diagnostic testing. A monitor and pull-out keyboard allow a medical professional to conveniently access and enter patient information to increase efficiency and reduce the risk of error. Storage on the cart can be used for medical test materials and provides safe spaces for transporting tests to labs.
Anesthesia Carts – Administering anesthesia using a medical rolling cart designed for the purpose decreases the need to transport patients from room to room. Anesthesia carts feature locking drawers to keep potentially lethal medication safe and organized.
IV Carts – Designed to accommodate heavy materials while still being easy to transport and maneuver, IV carts make administering an IV simpler. A unique drawer system allows quick bag removal from the front and insertion of bags in the rear.
Treatment Carts – Treatment carts have specialized compartments to ensure safe transportation of hazardous waste without contaminating additional areas of a medical facility.
Emergency Medical Carts – Medical facilities use crash carts, also known as code carts, to meet rapid response times during emergencies. Organized to contain sanitary supplies, medication, and a variety of equipment, crash carts conveniently stow the necessary supplies a medical professional may need during a crisis. These carts are available in a variety of configurations and can be customized depending on the specific needs of the facility.
Emergency Medical Carts are Necessary
State regulatory agencies require certain practices to have an emergency medical cart,1 but they are recommended for many facilities, including nursing homes, hospitals, outpatient surgery centers, urgent care centers and all centers where conscious sedation is performed. Physician offices that perform certain diagnostic testing, such as cardiac stress testing or stress echocardiograms, must also have an emergency medical cart available. Because an emergency medical cart is designed to quickly and efficiently supply the equipment and medications required to treat a patient experiencing a medical emergency, any facility that treats patients with the potential of suffering a sudden deterioration in their condition should have a crash cart on hand.
What Should be Included in an Emergency Medical Cart?
Depending on the environment in which they're used and the specialized requirements of the medical practice, the contents of an emergency medical cart may differ somewhat; but basic crash carts will contain similar products. All emergency medical carts should include the following basic supplies:1
Basic Airway Equipment – valve masks, oral and nasal airways, Magill forceps, oxygen masks, and nasal cannulas.
Intravenous Access Equipment – angiocaths, IV tubing and IV fluid, plus a drill and needles If the facility elects to utilize intraosseous access for emergency medications
Medications to Treat Cardiac Arrest – epinephrine and amiodarone
Medications to Treat Cardiac Dysrhythmias – Adenosine, Cardizem® (a beta blocker) and Atropine
Monitoring Equipment with a Defibrillator or AED
Medications to Treat Allergic Reactions – EpiPens®, Solu-medrol® and Benadryl®
Low Dose Aspirin
Nitroglycerin Spray or 0.4mg Tablets
Depending upon the specialty of the facility, the following supplies may be added:
Endotracheal Intubation Equipment – When anesthesia personnel are present
King Airways – For facilities without anesthesia personnel or for patients who have a difficult airway
Narcan – Reverses the effects of narcotics or sedation
Additional Antiarrhythmics – For physician's offices who perform cardiac stress testing
Emergency Medical Cart Maintenance
Emergency medical carts must be checked regularly and maintained to ensure that all supplies are available in the event of an emergency.1 It is an excellent practice to have a schedule and checklist in place so that medications are assessed at least once a month by a designated staff member. As part of this routine, expired medications should be removed and replaced with fresh supplies. Pads on the AED or the defibrillator should be checked for expiration as well. Finally, the battery charge on monitors and AEDs should be verified and documented.
Medical Cart Regulations and Requirements
The Food and Drug Administration (FDA) considers many hospital carts to be medical devices because they meet the three requirements set forth in section 201(h) of the Federal Food Drug and Cosmetic Act. Medical devices fall under IEC 60601-1 risk management testing and are subject to specific regulations. The 60601-1 standards state that all medical devices must be appropriately labeled and requires all medical devices and their manufacturers to be registered annually. The FDA also monitors quality system control and inspects "customized material" designs, manufacturing processes, labeling, storage and installation of attributes. Labeling is considered extremely important in meeting FDA standards for cart systems so custom carts should have heavy-duty markings to withstand the demands of a busy medical facility.
Each cart should be collapse-resistant to prevent damage to equipment and medical supplies. Carts should also pass impact testing to ensure they can withstand both accidents and general wear and tear. Shelves and drawers must be durable enough to tolerate constant use and product weights. Wheels must swivel and move as intended under load and should include a locking and braking system. A proper venting system should be in place to avoid overheating of medications or electronic medical devices. Manufacturers must ensure the locks on their carts are tamper resistant to prevent unauthorized persons from accessing medication and hazardous materials.
AliMed has Carts to Meet a Variety of Needs
AliMed medical carts are intended to provide convenient, organized and secure access to medications and supplies. There are hundreds of pre-configured models available, or customers can design their own to include only the features they want. Made in the USA and covered by a 5-year warranty, all AliMed carts feature precision-welded frames, double-wall construction, full-extension ball-bearing drawer slides, swivel casters and a variety of drawer configurations, locking options and accessories. To find out more about AliMed's medical carts, visit https://www.alimed.com/medical-carts/.
References
Latest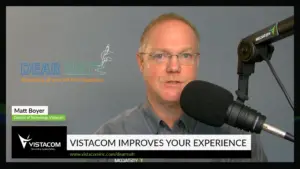 December 11, 2023
In a time when the AV industry supply chain faces unprecedented challenges, understanding its current status and future trajectory is crucial. In this week's segment of "Dear Matt," presented by Vistacom, host Matt Boyer, the Director of Technology at Vistacom, brings his over 30 years of experience in the audiovisual industry to the status […]
Read More