Healthcare Cost Reduction in 2018 – Driven by Technology
Innovative employers understand that as markets change and costs rise, they must be discerning in their approach to business finances. As these business leaders work to understand what drives up costs, one thing is clear: companies will have to get smarter about healthcare costs.
In 2017, the total cost of healthcare in the United States is projected to have grown 4.6%, reaching nearly $3.5 trillion , which amounts to over $10,000 per person. That number is expected to rise in 2018 and for many years after. To understand how to save money in this area, business leaders need to consider current trends, research helpful tools, and help their employees become wise healthcare consumers.
Driving Forces Behind Increasing Costs
To gain a robust understanding of healthcare costs, it's essential to learn about the driving forces behind their ongoing increase. Obviously, the baby boomer generation is aging and will continue to need more healthcare in the future. However, companies employing younger workforces should not consider themselves immune to rising healthcare costs.
The Health Research Institute (HRI) found three significant changes that will continue to make healthcare prices soar:
General inflation throughout the country
Slowdown in movement toward high deductible health plans
Branded drugs are not going off-patent as quickly as before
Problems for Patients
As healthcare services continue to cost more each year, patients are going into debt. One study of 1000 US adults found that a full 55% of respondents have incurred a medical bill they just could not afford. That same study found that 37% could not pay for an unexpected medical bill that exceeded $100 without going into debt. This is a staggering statistic.
The fact that hospitals are not always clear about their costs only makes this problem worse. When patients cannot plan for medical bills, debt becomes all but inevitable.
Unfortunately, there is little that individual companies can do to impact these drivers of higher costs. However, savvy employers still have plenty of options for decreasing healthcare costs for their staff.
Trends in Technology
Communications technology is snowballing and changing the face of the healthcare industry in the United States. For example, new payment collection platforms have emerged to help both patients and healthcare providers. On the patient-facing side, these innovative platforms make it easier for people to get estimates regarding costs, set payment plans up, make payments easily and even engage with financial counselors.
Healthcare providers benefit from these technologies as well. With propensity to pay models and digital communication solutions, as well as online/mobile payment options, providers can be more successful in improving collections, while enhancing the patient satisfaction levels with their organization.
Employers need to leverage innovative solutions that improve the employee experience from the clinical experience through the billing and payment process. Technology innovations like transparency platforms to identify low cost, high quality providers, as well as consolidated statements of bills and Explanation of Benefits to simplify the billing and payment experience, should be evaluated.
In addition, implementing wellness programs that identify employee health conditions early and encourage prevention should also be a core component of keeping healthcare costs down for savvy employers. A comprehensive review of workplace wellness programs concluded that they can help contain the current epidemic of lifestyle-related diseases, the main driver of premature morbidity and mortality, as well as healthcare cost, in the U.S. Evolving technology can now track wellness results individually and across an organization, while offering online employee competitions. This makes getting healthy fun, while supporting a culture of wellness within an organization.
In 2018 and for years to come, healthcare providers, patients, and employers will need access to information and technology to better navigate the healthcare system. The HIMSS Revenue Cycle Improvement Task Force convened innovative healthcare stakeholders to create a vision for the next generation of revenue cycle management business processes and tools. The mission was to keep administrative cost containment, interoperability and consumer engagement front and center. Their 5-part series, A Roadmap to the Patient Financial Experience of the Future, highlights existing technologies, as well as gaps that innovators can fill to realize the Task Force's vision.
Whether you get involved at the industry level, within your organization or through your personal engagement, taking action and leveraging technology will be valuable components in driving down healthcare costs for you and our nation.
About Beth Griffin
Beth Griffin serves as Chief Marketing and Product Officer for HPS. As such, she is responsible for the strategic positioning of HPS by leading the company's marketing, consumer engagement, and product development efforts. Beth was recently recognized by Becker's Hospital Review as one of 110 Women to Know in MedTech in 2017.
Prior to joining HPS, Beth held leadership roles in healthcare and payments with MasterCard, Optum Financial Services, Metavante (now FIS Global) and Firstar (now US Bank).
Beth is actively engaged in HIMSS as Chair of the Revenue Cycle Improvement Task Force, ECFC as Chair of the PR and Communications Committee, HFMA, etc.
About HPS
Health Payment Systems (HPS) is a privately-held healthcare technology and services organization headquartered in Milwaukee, Wisconsin, offering solutions to enhance the consumer healthcare billing and payments experience, while driving value to healthcare providers, health insurance companies, and employers.
Since its founding in 2005, HPS' patented solutions – including the highly differentiated single consolidated statement of medical services for a family and the related online and mobile access with multiple payment options – have benefitted many constituents in the healthcare market.
HPS is led by President and CEO, Terry Rowinski, and to date has processed over $1.6 billion in claims. HPS is a partner to all major health plans and practitioners in Wisconsin.
Read more at hps.md
Latest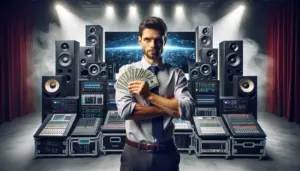 December 8, 2023
Mastering AV sales strategies in a global professional audio-visual (Pro AV) market, poised to reach $79.2 billion by 2028, requires much attention to detail. The surge in demand from corporate, government, and institutional sectors, driven by the need for enhanced productivity and efficient working environments, gives AV sales pros a lot of opportunity. In […]
Read More