How Assisted Living Residences Can Become a Resource to the Wider Community
Zippia reports that by 2050, an estimated 27 million to 30 million people in the Americas will require long-term care services. Larry Carlson, Former President & CEO, of United Methodist Communities, gives his take on how assisted living residences can become a resource to the wider community through tools and resources.
Larry's Thoughts:
"Let's start with some dementia facts. 50 million people worldwide have dementia. Dementia is the fifth leading cause of death. Globally, more people die from dementia than breast cancer and prostate cancer combined. Age is the greatest risk factor in dementia, and its impact is growing at an alarming rate.
That said, there aren't enough assisted living residences to provide the needed. Population. I'd suggest that in addition to institutional care, assisted living residences to become a resource to the wider community, equipping those families dealing with a dementia diagnosis with tools and resources to keep their loved ones home longer.
This should be a place for virtual community resources, outpatient and inpatient assessment, counseling, and treatment, possibly with an academic research component with the goal of delaying entry into a residential living situation, at least until mid-stage dementia, a resource center could offer a multi-level approach to address the complexities of dementia.
This could entail a variety of consultative op options for families, ranging from an initial grief consultation and educational appointment to a unique immersion retreat. This retreat could offer a full evaluation. Diagnosis, treatment, care strategies, education, and ongoing follow-up coaching."
Latest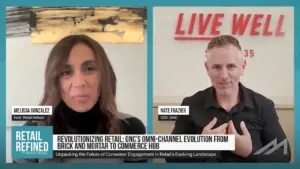 November 29, 2023
The transformation from a traditional brick-and-mortar store to an integrated commerce hub is crucial in the fast-evolving retail landscape. GNC's omni-channel evolution epitomizes this shift, blending in-person and digital experiences to meet the contemporary consumer's demands. But what does this mean for the future of retail? "Retail Refined," hosted by Melissa Gonzalez, welcomes Nate […]
Read More