How New Robotics are Shaping the Hospitals of Tomorrow
Photo courtesy of Alex Miller, U.S. ABB Media Relations
Technology provider ABB announce on July 10 that it will install advanced collaborative robotics for medical labs and hospitals, beginning in Houston, Texas this October.
The company announced in a press release that the global market is estimated to reach nearly 60,000 non-surgical medical robots by 2025, which would almost quadruple the total measured in 2018.
"The next-generation laboratory processes developed in Houston will speed manual medical laboratory processes, reducing and eliminating bottlenecks in laboratory work and enhancing safety and consistency. This is especially applicable for new high-tech treatments, such as the cancer therapies pioneered at the Texas Medical Center, which today require manual and time-consuming test processes," ABB Robotics and Discrete Automation President Sami Atiya said in the statement.
The increase in automation will allow highly-skilled hospital workers to treat more patients and provide more personal attention, while robots conduct low value and repetitive tasks.
"With this exciting partnership, Texas Medical Center continues to push the boundaries of innovative collaboration with cutting-edge industry partners by establishing TMC as the epicenter for ABB Robotics' entry into the healthcare space," said Bill McKeon, President & CEO of Texas Medical Center in the press release. "Operating a city within a city that sees 10 million patients on an annual basis, it is essential to prioritize efficiency, and precision and to develop processes that are easily repeatable in nature. By bringing ABB into the fold at TMC Innovation with this first-of-its-kind R&D facility for creating robotics solutions in healthcare, TMC is emphasizing its commitment to doing just that."
ABB has used collaborative robots in the food and beverage space in the past, and says the devices are well-suited for the medical environment. Activities the robots will be tasked with include dosing, mixing and pipetting, according to the statement.
For the latest healthcare news, head to our industry page!
Latest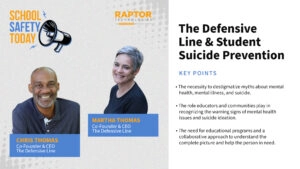 September 22, 2023
Student suicide prevention is a paramount concern among mental health providers. For one organization, student suicide prevention is more than a concern: it's their mission. The alarming rise in mental health crises among youth has become a pressing concern in recent times. With the complexities of modern life and the challenges of the digital […]
Read More