How Risk Screening Ultimately Reduces Overall Healthcare Costs & Improves Results
Whether it's from a health study we hear on the news or an anecdote from a friend or family member, we all know that catching a health condition early can make all the difference in improving our quality of life and preventing complications, hospitalizations, or worse. And one of the most powerful tools available for the early diagnosis of disease is risk screening. So if risk screenings are so valuable, why don't patients take advantage of these preventative services more often? Let's take a look.
The High Cost of Waiting
Studies have shown that early detection of certain cancers and other chronic diseases through screening can reduce mortality by 15 to 20 percent. Not only does risk screening prevent complications by diagnosing health conditions early, it can actually help patients—and the healthcare system as a whole—save money. For example, in 2012 Alan Katz, Executive Vice President of SeeChange Health, testified that the average annual cost of early-stage treatment of breast cancer for a single patient is about $14,000 per year compared with $61,000 for late-stage treatment. Other examples of risk screening procedures that help drive down healthcare costs include colonoscopies, pulmonary embolism risk assessment, and screenings for obesity, and tobacco and alcohol use.
So Why Isn't Risk Screening Used More Often?
Out of pocket insurance costs are a top reason more people don't schedule risk screenings. According to Thompson Reuters, the costs of mammograms, colonoscopies, and MRIs for Americans with employer-sponsored insurance can be two to three times higher than the median price in the same market. In addition, patients may simply be unaware of the specific risk screenings that are available to them because they do not regularly communicate with a primary care physician. Finally, when a patient does decide to get a screening, they may find the process for scheduling an appointment cumbersome and time-consuming.
ChartLogic Has the Tools to Make Scheduling Risk Screenings Easier
ChartLogic's Connect Patient is a multifunction patient portal and communications platform that works with any device or browser. Physicians and patients can use this powerful technology tool to quickly and easily engage, enhancing the overall patient experience and improving quality by allowing patients to be more active participants in their own care. Patients can easily schedule appointments, send and receive messages from their doctor, view lab results, request prescription refills, and make payments. Best of all, Connect Patient integrates with ChartLogic's comprehensive ambulatory EHR suite that includes Electronic Medical Records, Practice Management, and Billing Services.
Read more at chartlogic.com
Latest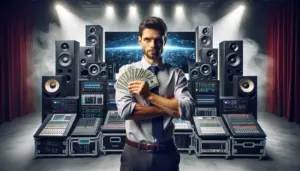 December 8, 2023
Mastering AV sales strategies in a global professional audio-visual (Pro AV) market, poised to reach $79.2 billion by 2028, requires much attention to detail. The surge in demand from corporate, government, and institutional sectors, driven by the need for enhanced productivity and efficient working environments, gives AV sales pros a lot of opportunity. In […]
Read More