Joan Oloff is Making Fashion More Functional
All too often, our choice of wardrobe comes down to function or fashion. We sacrifice comfort to look good, or we sacrifice taste so that we can be comfortable during long days on the job. Increasingly, however, companies are seeking to create pants, dress shirts and shoes that combine runway aesthetic with around-the-house comfort. In a fashion landscape dominated by established brands, it can be difficult for a start-up to stand out. By providing customers with clothing and accessories that look great but can also be worn on the job, new brands are able to break through this barrier.
Few designers exemplify this innovative spirit as much as Joan Oloff. A podiatrist by training, Joan set out to make the first line of orthopedically correct high heels. After seeing the issues that traditional high heels cause in her patients, Joan knew there had to be a way to design beautiful shoes that wouldn't negatively impact the health of the wearer's feet down the road.
The challenge was taking elements already common in athletic and walking shoes, like offloading pressure points, incorporating shock-absorption and providing proper support, and finding a way to implement these same features in heels. Over the course of four years, Joan worked with designers and manufacturers, in both Los Angeles and Italy, to make her line of shoes fit her standards. It was difficult. The manufacturers didn't want to do things her way. But she pushed ahead.
"If I'm not going to be a game-changer, if I'm not going to disrupt the way high heels are made, there's no point for me to do this," Joan said in an interview with the San Francisco Chronicle.
Her perseverance paid off and today, Joan Oloff's shoes have built-in arch support, cushioning material in the ball of the foot and a lower heel pitch, all of which allow the entire foot to comfortably share the body's weight. Perhaps the most impressive aspect of her line is simply the diversity of options. Made by hand, the latest collection has everything from sandals to knee-high boots. The beauty of the line, combined with the comfort of the shoes, have garnered Joan a loyal following. One surgeon in Santa Fe owns ten pairs of the shoes as they allow her to work without discomfort be it in her office, visiting patients or even conducting an hours-long surgical procedure.
While her customers all praise her shoes, Joan also has proof to back up her claims that she makes healthy heels. Using CurveBeam's revolutionary pedCAT technology, Joan is able to show weight-bearing CT scans of her shoes in action. When compared side-by-side with the same scans of someone wearing standard heels, it is obvious that Joan's shoes provide evenly distributed support and stable positioning while other shoes have toe crimping and no arch support, creating a painful experience for the wearer.
Just like Joan Oloff, CurveBeam is dedicated to changing the game. By creating innovative 3D scanning technology that provides a complete view of a patient's lower extremities, the pedCAT has given podiatrists, physical therapists, and others the ability to give their patients the proper treatment they need. Learn more about pedCAT here.
Read more at curvebeam.com
Latest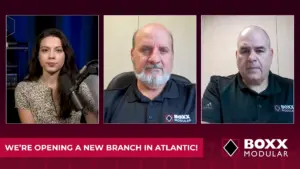 December 4, 2023
In an era where construction innovation is reshaping the industry, modular construction's growth continues to rise. In this episode of Built Modular, Boxx Modular's strategic expansion into Moncton, Atlantic Canada takes center stage. Host Gabrielle Bejarano welcomes Charles Landry and Ray Girouard to explore the implications of this venture. Bejarano, Landry, and Girouard discuss […]
Read More