Life as a Flight Attendant During COVID-19: I Don't Care
This week on I Don't Care, Kevin Stevenson invited a very special guest on to the show to discuss the impact of the COVID-19 crisis on the airline industry. Kevin's wife, Michelle, is a flight attendant for a major airline and gave some insight into the enhanced cleaning protocols, crew safety and changes in air travel in light of the current health crisis facing most of the world.
On another MarketScale podcast, Roads, Rails, & Rides, Jeb Morris brought up a staggering number in the reduction of travel in North America right now. TSA has reported as having gone from 2 million passengers a day going through security last March to roughly an average of 200,000 people going through security. With a 90% drop off in air travel many pilots, flight attendants, and passengers have reported being on a flight with fewer than 10 passenger onboard. Even with the steep drop off in business it is more cost effective to keep the planes in the air going to their next destination than it is to cancel some routes and bringing new planes to cover the active routes.
Michelle Stevenson discusses how her employer has increased the frequency of deep cleaning the aircraft from at the end of each day to even in between flights. Despite the drop in the usage of each seat, airlines are more focused than ever to make sure to disinfect all surfaces that would be susceptible to transmission of the virus.
Airlines across the industry are reconciling with the uncertain future of air travel by determining when furloughs are necessary and how to keep as many employees as possible active. To accommodate the reduction in active routes, some airlines are allowing crew members to have the option of extended time off to reduce the strain of active employees.
If you are interested in reading statements from airlines about how they are handling the COVID crisis we have linked the statements from the major airlines below.
—


Latest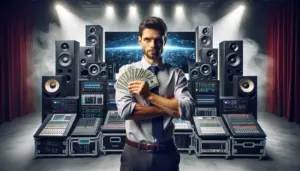 December 8, 2023
Mastering AV sales strategies in a global professional audio-visual (Pro AV) market, poised to reach $79.2 billion by 2028, requires much attention to detail. The surge in demand from corporate, government, and institutional sectors, driven by the need for enhanced productivity and efficient working environments, gives AV sales pros a lot of opportunity. In […]
Read More