Making Healthcare Design "Talk the Talk" with Jason Pierret of Clarus
As hospital budgets are getting tighter, administrators are looking for practical and cost effective ways to benefit both their patients and their professionals. Hospital design is a big player in budget talks, being some of the priciest pay points but some of the most necessary. A refurbished, welcoming and functional hospital design makes for not only more productive physicians and nurses, but safer patients. A Modern Healthcare article even goes as far as to point out that inefficient design leads to wasted time looking for supplies or staff, which means less time at a patient's bedside. All in all, healthcare design is crucial. What are the latest trends in aesthetics and functionality that are helping patients feel more comfortable and professionals feel more productive?
Jason Pierret, Healthcare Market Manager for Clarus, has dedicated most of his career to the healthcare industry, and has seen how crucial the feel of a hospital can be on overall care. "If they have medicine that kind of walks the walk, their facility really needs to talk the talk," Pierret said.
Pierret joined us on the podcast to discuss the latest trends in healthcare design and why efficient communication is inspiring the biggest changes. He also tackles the crippling issue of patient mistrust and how it's directly correlated to healthcare design. But beyond that, he explains how innovative technology like VR or glassboards can inspire creativity among healthcare professionals, keep stressed patients at ease while waiting on difficult news, or just inspire a happier aura for a hospital.
"When they walk into a healthcare facility, what types of environments – what elements in that environment impact and influence the way that they feel," Pierret said. "There are studies that are being conducted now that are saying that if the environment is positive and it's bright and you feel good when you walk into the hospital, then that has a direct influence on patient outcomes."
For the latest news, videos, and podcasts in the Healthcare Industry, be sure to subscribe to our industry publication.
Follow us on social media for the latest updates in B2B!
Twitter – @HealthMKSL
Facebook – facebook.com/marketscale
LinkedIn – linkedin.com/company/marketscale
Latest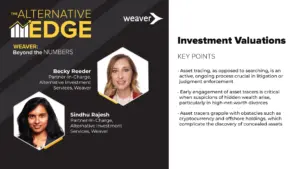 December 4, 2023
In this episode of The Alternative Edge, a Weaver: Beyond the Numbers Podcast, host Becky Reeder, an audit partner and co-leader of the alternative investments practice at Weaver, engages with Sindhu Rajesh, an Alternative Investment Services Partner with Weaver. They unpack the complexities of venture fund valuations, offering critical insights into industry dynamics and best […]
Read More