Online Game Could Be Helping Diabetes Patients
Researchers are always trying to find better care for those inflicted by disease. Whether it be through more effective treatments, different types of treatments altogether, or even self-care. One study has shed light on diabetes, and how maybe an online game could be helping patients.
Be sure to follow us on Twitter @HealthMarketNow for daily news updates!
Latest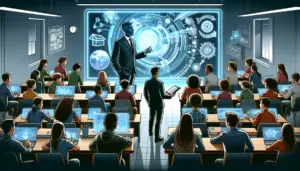 November 27, 2023
In an era where education stands at the crossroads of tradition and innovation, the potential value of thought leadership becomes the guiding star for progress. "Just Thinking" dives into this potential with host Kevin Dougherty and guest Evan Edwards, a Professional Learning Specialist at 806 Technologies who exemplifies the transformative impact of visionary guidance […]
Read More