Pfizer CEO Bourla on Covid Vaccine, R&D, Reopening
Pfizer CEO Albert Bourla, DVM, PH.D. was on the forefront of the global recovery from the COVID 19 pandemic. Pfizer helped lead the way to a vaccine, but Bourla has even higher ambitions for the company. Watch below as Bourla addresses the possibilities that lie ahead for Pfizer, and his goals to impact the medical space even further.
"I was feeling that if it is not us (Pfizer), then I'm afraid no one else can find the solution."
Bourla: I wouldn't say I knew I could do it, but what they knew is that I have to do it because I would realize that the consequences if we fail will be dramatic. And although I have high respect for everyone who tried, I knew that very few will have a dedication that we are having. So in a sense, I was feeling that if it is not us, then I'm afraid no one else can find the solution. And that was not an option. So I treat it like if that's it, we do it. And we have to do it.
Host: So so as I understand, you had repositioned the company. So when you took over as CEO, more toward basic science and some of the high end drugs, high risk, high reward drugs. So you may have been better positioned for that. But as you looked at the problem, what alternatives do you have? What tools that you have in your toolkit saying I have to have a vaccine? How do we go about doing it? Because you end up with MRSA, but that was not the only alternative.
Bourla: Yes first of all, let me say that I did. And reposition the company when I took over in 2019, but only because of the work of my predecessor. It's not because we have a new Sheriff in town. He worked very hard to turn around the R&D. So when I took over, I found an R&D machine that I could believe. And this is why I took all of the risk to say that let's find Better Homes for other businesses. And let's focus on science, and other things that we did when we said, let's focus on science. I knew that in biological science, equal importance with biology, kind of digital. And that was the time that we brought for the first time. It's if this officer advisor and that we dramatically increased the investments in R&D and digital, the digital infrastructure that we built in the first half of 2020 was what helped us dramatically to make this vaccine work. A lot of these things would not be possible unless we have this seamless machine that digitize our clinical trials.
Host: So let's talk about the future here. What comes next for the world, for your industry, but for Pfizer in particular? Let's start with Pfizer. Obviously, you've accomplished something that nobody thought you'd accomplish. It has really helped save the world. I don't think that's an exaggeration, actually. Where do you go from here? I mean, this is you're right. You're a pretty high point. What's next for Pfizer?
Bourla: I think the fundamental question that comes to me after this great success is if we were able to do it for covid, why not for cancer? Why not for alzheimer's? Why not for many other diseases that require treatments? That's in general for the industry and ourselves. We are focused on six therapeutic areas that they are covering a broad spectrum of medical needs, most of them unmet right now. So I think there is some lessons learned and thinking out of the box and the reengineering your processes and investing in R&D invest, creating a culture that can do the impossible possible. And investing in digital is key for the success in bringing new breakthrough innovations to the world. So this is what I think you will see from Pfizer in the next few years. More breakthroughs. But since patients like, where are we going because of the pandemic.
Host: And this sense, will we be able to travel the way we used to? Will the cities come back with the vaccinations? Will it actually get us back to something like what was normal? Or will we really perpetually be living in a somewhat different world going forward?
Bourla: I believe in terms of controlling covid, I think we will be able to control it to a level that we could have if we wanted our old life back. But I think there were some lessons learned, lessons that, for example, we can work remotely as good as by coming to the office every day. I don't think this will go away. Any lessons that maybe you can do? Zoom instead of travel for a business trip that will take you two days, just go and come that I don't think we'll see coming away, not because of covid, but because we learn what we can do differently.
*Captions are auto-generated
**Bloomberg contributed to this content
—
Follow us on social media for the latest updates in B2B!
Twitter – @MarketScale
Facebook – facebook.com/marketscale
LinkedIn – linkedin.com/company/marketscale
Latest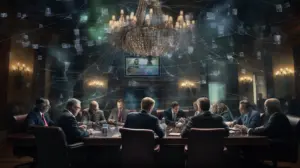 October 3, 2023
In August 2023, the National Institute of Standards of Technology (NIST) put out a request for comments on the Preliminary Update from the Internet of Things Federal Working Group (IoTFWG), which aims to provide the nation direction on how to improve IoT adoption and expand its use cases for the future of industrial, corporate, […]
Read More