Physicians Footcare and CurveBeam Mobile Hit the Road
CurveBeam Mobile makes weight-bearing CT imaging accessible and affordable to all providers, regardless of practice size. Featuring custom-built mobile imaging suites and expertly trained technicians, CurveBeam Mobile delivers the ultimate in cost-effective service and convenience, providing a first-class experience for patients and unparalleled diagnostic support for practices.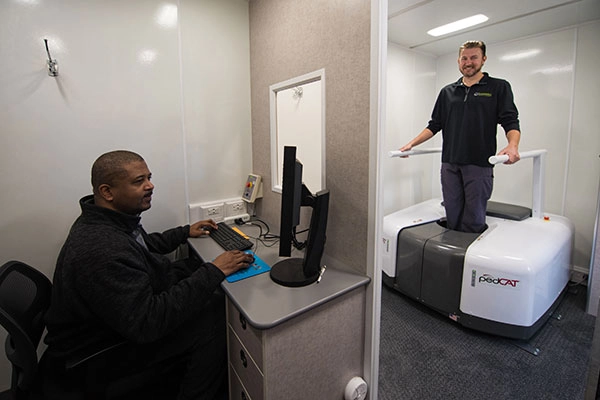 Recently, Physicians Footcare (PFC), a full-service podiatry practice with 11 offices located throughout South Carolina, announced it will begin providing standing CT services to its locations via a mobile imaging center, which was custom built by CurveBeam Mobile.
The state-of-the-art mobile imaging facility is the first-of-its-kind in the United States. The imaging facility will travel around Richland and Aiken counties to each PFC location, scanning patients in communities throughout the Palmetto state.
"Our unique delivery model provides our patients with the quality and sophistication of care they would expect from the very best medical centers in the country," said Dr. Kevin L. Ray. "This motto provides our patients with the convenience and comfort of personalized care they receive from the local practitioner they know and trust."
Until standing CT technology was introduced in the United States in 2012, foot and ankle physicians and radiologists had to rely on conventional medical CT, in which a patient is scanned while lying down.
However, the American Orthopedic Foot & Ankle Society recommends standing imaging when possible. Imaging patients while they are standing provides a true assessment of bone and joint alignment. Standing CT scans will allow the PFC's 15 podiatric physicians to diagnose and treat conditions including but not limited to fractures, subluxations and dislocations, midfoot injuries, bunions, flat feet, sprains, arthritis, and diabetic-related complications.
The mobile imaging suite is outfitted with a CurveBeam pedCAT. The CurveBeam pedCAT takes 360 two-dimensional X-Rays of each foot and stitches them together to create an exact, three-dimensional digital replica of the foot and ankle, allowing PFC physicians a comprehensive study of each foot and ankle structure.
A pedCAT standing CT scan takes less than 45 seconds, and radiation dose is lower than a conventional medical CT exam.
Both CurveBeam Mobile and PFC are excited about this first of its kind venture.
Latest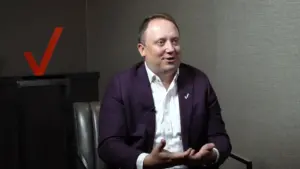 December 1, 2023
For a special episode of The Verizon Partner Network the focus was on the considerable role of partnerships in the Verizon Partner Program and the leaders shared their perspectives on the initiative. Their conversation brought about a lot of thought-providing context on the evolving telecommunications landscape. In today's era, collaboration and integration are key to […]
Read More