Serving Up Something Different: The Big Changes For Healthcare Food Service
When many people think about hospital food, they often think about prepackaged Jell-O, some form of mystery meat, and a made-from-the-box starch, and all of it prepared in a hidden underground cafeteria.
While the hospital offerings of the past may still be in the forefront of consumers' minds, the movement to focus on better food and a more health-conscious experience is driving many hospital foodservice teams to meet higher nutritional standards and prepare better tasting meals. The Affordable Care Act (ACA) is another large factor because patient satisfaction scores and readmission rates are tied in to vital reimbursements that generate hospital revenue. While it may not seem that foodservice is directly related to patient care, it does play influence to the patient experience. In fact, a recent survey of 184 hospitals by Foodservice Director showed that 85% of hospitals reported serving more patient meals than in the past.[1]With more patient touches, there is an opportunity for foodservice to enhance the value they provide to the patient and the hospital.
Hospital administrators and directors are working hard to find ways to simultaneously improve food quality and keep meals affordable. But rising food costs and budget cuts have made sourcing the right ingredients difficult. So, how can food service improvements be made that generate higher patient scores and better tasting meals with less waste?
New Technology
The recent growth in modernized foodservice system investments is reflective of a sweeping effort to reduce inefficiencies while improving quality of care. Using new technology to track demand and to take orders, to support features like on-demand room service, and to evaluate food costs is the best way to improve the patient experience, thus improving patient-satisfaction scores.
Foodservice Staff Interaction
There is also a significant shift in the role of foodservice staff. Long gone are the days when staff members were expected to just take meal orders. Many hospitals are now creating environments that foster direct interactions between foodservice staff members and patients to help enhance the overall level of care for patients.
Digital Records
The adoption of EHR's is also creating new opportunities for foodservice. Tablets for example, can be linked directly to digital records that can update dietary restrictions and patient menu options in real time. This reduces the amount of waste associated with incorrect orders. It also leads to greater satisfaction because patients don't order out-of-stock items.
TPC Strategic Partnership Sourcing
The best way to approach foodservice overall is through strategic sourcing and partnership models that create additional buying power and value-added services. TPC provides superior savings results for Members by way of a competitive sourcing and aggregation model. By working through TPC's Foodservice Value Analysis Team, that is comprised of foodservice leaders from each organization, Members are utilizing strategic resources that help document and manage operational costs. In addition, through peer-to-peer discussions of best practices, Members are embracing the American Medical Association policy statement which calls on US hospitals to improve the health of patients, staff, and visitors through a variety of healthful foods, that are plant-based and low in fat, sodium, and added sugar.
Foodservice leaders are empowered to support their hospital's mission to provide the best quality care at the lowest possible cost by closely managing expenses within their specific sector, providing food and service that maximizes the overall patient and employee experience, and using technology and data to improve productivity.  And hospitals don't have to do this alone – through the TPC model, Member facilities have the ability to work alongside like-minded community-based institutions.
TPC provides partnership and value beyond traditional contracting – we can be a resource to Members who want to improve their overall foodservice operations.  Our goal is to help our Members and our foodservice partners deliver better food, with less waste, to create better patient outcomes.
To learn more, visit http://www.tpc1.com/who-we-are/ today.
Read more at tpc1.com
P.S. Interested in more food service information? Check out: http://www.tpc1.com/blog/2017/9/6/a-joint-effort-for-improving-healthcare-foodservice
[1] http://solutions.rdtonline.com/blog/a-quick-look-at-the-trends-in-healthcare-foodservice
Latest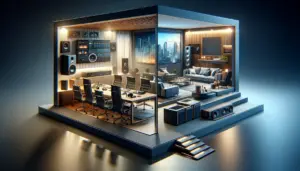 November 27, 2023
In this episode of "Pro AV Today," host Ben Thomas sits down with Audra Kinsley of Sonos Professional to unpack a topic that's causing (sound) waves in the audio industry: the fusion of commercial and residential audio systems. As we navigate through a landscape where consumer and professional audio worlds are increasingly intersecting, Sonos steps […]
Read More