The Airborne Heroes behind Organ Transplant Procurement
The challenges healthcare executives and administrators face are constantly changing. Host Kevin Stevenson talks with the heroes behind the heroes that are enabling hospitals, urgent care centers and telemedicine operators to spend their time tending to patients, while they handle the logistics.
I Don't Care seeks to bring conversations to the world that touch on many healthcare topics. For a completely unique take, host Kevin Stevenson welcomed Jessie Naor, COO of GrandView Aviation. GrandView Aviation is a Part 135 certified aircraft operator. They transport organs for transplant and offer private charters.
Naor described the company's origins. "We've been in the organ transplant transportation business for 12 years, starting with one helicopter. We now have 10 airplanes and serve multiple locations across the U.S."
Hospitals mostly use the flights for organs with the shortest cold-time, including hearts, livers, and lungs. A typical procurement involves two pilots and two healthcare workers. They start at the home hospital, fly to the donor, retrieve the organ post-surgery, and return to their base.
Naor then discussed the importance of the FAA (Federal Aviation Administration) Part 135. Part 135 is different from Part 125, used by commercial airlines. It corresponds with private commercial, non-scheduled aircraft operations, requiring specific safety and operational protocols. Until the last few years, many organ transplant operations didn't fly under Part 135.
"They were just flying private with few regulations. Now, it's changed because of medivac accidents. There's always risk, and you can never mitigate it 100 percent, but you should always ask operators how they're doing it," Naor shared.
Naor and GrandView have a mission to educate the healthcare industry and beyond about best practices and safety. Naor is currently on an FAA committee making suggestions to handle crew safety and organ transplant.
When asked what's next for organ transplant, Naor said, "We don't yet have drones, but people in the industry are trying to figure it out. I could see as being helpful within large cities."

Latest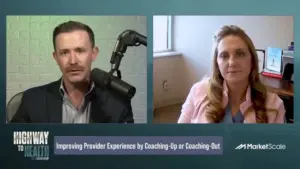 November 28, 2023
Improving healthcare is a multifaceted challenge, with the provider experience playing a pivotal role alongside patient care. In a recent episode of the "Highway to Health" podcast, host David Kemp delved into this critical issue with Stephanie Prechowski, MBA, MSN, RN, AGCNS-BC, CNOR, Chief Operating Officer at Surgeons Choice Medical Center. In this episode, […]
Read More