The Biggest Insights from "I Don't Care" This Year
These days there are a number of avenues for individuals to dive into the healthcare industry. Gone are the days where proficiency in medicine was the only requirement for a career in healthcare.
That has certainly been the case for Kevin Stevenson, who has worked with various healthcare organizations for over 30 years with expertise in operations, strategy, network development, marketing and crisis communications.
Through the course of this series Kevin discusses his journey into healthcare and shares some practical career advice for anyone interested in joining the industry.
How Public Schools are Mitigating the Impact of COVID-19
On this episode of I Don't Care with Kevin Stevenson, Stevenson was joined by Keller ISD attorney Amanda Bigbee, who detailed how her district is handling everything from online learning, meal provision for students who rely on it and more.
The Impact of COVID-19 on the Church
To celebrate Good Friday I Don't Care, host Kevin Stevenson is joined by Reverend Stephen T. Carrell, Pastor of Worship and Music at Park Cities Baptist Church in Dallas, TX, who shares how his church and other churches have been impacted and have responded to the COVID-19 pandemic. Stephen speaks to new avenues of worship, working with their mission partners to serve the underserved in Dallas and his hope of revival across the world.
Navigating the Complex Web of Healthcare Revenue Cycle Management
On this episode of I Don't Care, host Kevin Stevenson was joined by Christian Torres, owner of EMS Medical Billing, for a discussion about the ins and outs of revenue cycle management, or medical billing, in the healthcare industry.
Latest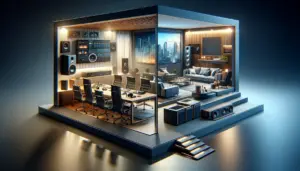 November 27, 2023
In this episode of "Pro AV Today," host Ben Thomas sits down with Audra Kinsley of Sonos Professional to unpack a topic that's causing (sound) waves in the audio industry: the fusion of commercial and residential audio systems. As we navigate through a landscape where consumer and professional audio worlds are increasingly intersecting, Sonos steps […]
Read More