Mental Health and Electronic Health Records
The mental and behavioral health industry is at an exciting crossroads. No longer an afterthought to traditional healthcare, this area of medical specialization is finally being recognized as an integral facet of a person's health and well-being. In fact, most businesses today encourage employees to seek treatment early before certain conditions spiral into larger problems, with more and more health plans including expanded provisions for mental health. Further, local governments are extending similar support for mental health-related issues via public awareness campaigns.
Study the numbers, and you'll arrive at just one conclusion: mental and behavioral health is a growing industry, with plenty of growth still to come.
Preparing for Growth
Recent studies suggest that 1 in 5 adults living in the United States has a mental health condition. That's more than 40 million people in need of a provider. Of these 40 million people, however, only about 40% of them are currently seeking care. Why, you ask? Consider this: as busy as most clinics are (and many of them are extraordinarily busy), current business models impede their capability of rendering care to more patients, restricting patient loads to less than half of the number of people who need their services. And going forward, the demand for mental health care will only increase—the fact that millennials seem more aware and more open to the benefits of mental health care than older generations supports this prediction.
But how will providers keep up with this growth? How will they maintain efficiency in the office, stay up to speed with treatment plans, and communicate with fellow staff while still offering their patients the comprehensive, compassionate care they deserve, all without burning out?
Enter behavioral health EHR's.
Choosing the Right EHR
If you're a mental health provider, an effective, easy-to-use, scalable EHR makes your life easier. It's as simple as that. But if you've shopped for an EHR before, you know how many different options the market offers. You know, too, that many of them are bulky—resistant to growth. Maybe you've convinced yourself that these unwieldy platforms are just part of the price of keeping yourself and your practice in business. The good news is: it doesn't have to be that way.
The right behavioral health EHR will be user-friendly, secure, 100% reliable, and will integrate easily, seamlessly with your practice needs and workflows.
Enter ChartLogic's Lite EHR.
Prepare for Growth with ChartLogic
Purposely-built for mental and behavioral health practices in mind, ChartLogic EHR Lite is the perfect fit. EHR Lite enables practices to save time and money while expanding their patient base and meeting the needs and growth of mental and behavioral health specialists.
Prepare and future-proof your practice for the increased demands of the growing mental health industry! Learn more about ChartLogic's EHR solutions by visiting our website, and schedule a demo with one of our experts today.
Latest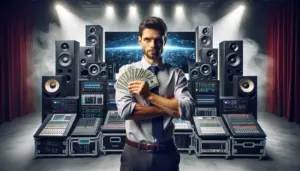 December 8, 2023
Mastering AV sales strategies in a global professional audio-visual (Pro AV) market, poised to reach $79.2 billion by 2028, requires much attention to detail. The surge in demand from corporate, government, and institutional sectors, driven by the need for enhanced productivity and efficient working environments, gives AV sales pros a lot of opportunity. In […]
Read More