The Pandemic Accelerated Health Systems' Adoption of Digital Health Services. They're Now Maneuvering a "Fragmented" Ecosystem.
The COVID-19 pandemic has caused significant disruption across the healthcare industry, from exacerbating the industry's labor shortage to a heavier involvement from federal and local governments in funding relief programs and an easing of regulatory red tape. It also led to, by complete necessity, a surge in the adoption of digital technologies and services, both to help diagnose COVID-19 itself and to provide better oversight on contact-tracing. With the accelerated convergence of healthcare and digital solutions, patients can now access digital health services from the comfort of their homes, and healthcare providers can access patient data in real-time. Where is this providing opportunities and risks for the healthcare industry?
Research conducted during the height of the pandemic found that the pandemic's "historical moment" is defining a large-scale adoption of already-existing tools like telemedicine solutions, but also paving the way for new digital health services like AI-based diagnostic algorithms and a better foundation for future emergency response needs. According to a report by Grand View Research, the global digital health market will reach a whopping $809.2 billion by 2030, growing at a CAGR of 18.6% during the forecast period. It is expected that the rising incidence of chronic diseases, rising healthcare costs, and technological advancements will all contribute to this expansion.
Despite the fact that digital health services and their adoption are being viewed, in general, as a positive development for the healthcare industry, there are still risks associated with these solutions and the more specific context of mass adoption during a moment of crisis for the healthcare industry. Data security and privacy concerns, for example, are one of the biggest worries and one of the industry's many pandemic-induced headaches, as seen in the FTC's recent crackdown on digital health providers that violate its Health Breach Notification Rule.
How should health systems, physicians, and the existing ecosystem of digital health providers maneuver this new reality for the healthcare industry? Kathleen Aller, global head of healthcare market strategy at data technology solutions company InterSystems, reflects on her extensive experience in health IT management to give her views on the benefits and risks of the newly defined ecosystem of digital health services.
Kathleen's Thoughts:
"When I think about the ways in which digital health is transforming our healthcare environment, the thing that hits me the most is that it untethered patients from the hospital. We spent decades and decades investing in complex equipment that require close proximity to nurses and doctors and technicians that require care to be delivered in place.
Now we can untether those patients. We can deliver care in their home. We can connect them to specialists remotely. We can give them implantables and monitoring and all kinds of care without being in the hospital.
The risk though, to the hospitals, besides the fact that they have to rethink brick and mortar, is that the trillions of dollars we've invested as a nation in unified comprehensive electronic health records are at risk of being fragmented and our view of the patient being equally fragmented as new digital health providers come into the market who may not be part of our normal ecosystem, who may in fact be subject to data requirements for cellphones. And the solutions marketed directly to patients mean the data becomes fragmented and we lose sight of that comprehensive patient view, which is one of the reasons InterSystems spend so much of its time working with digital health providers to connect up their solutions with that larger health record."
Latest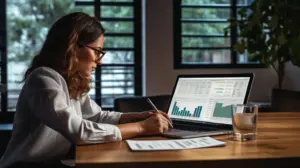 October 4, 2023
The intersection between security and financial acumen often gets overshadowed in a constantly changing economic landscape. While security is essential for safeguarding assets and ensuring continuity, its perceived monetary value is mired in misconceptions affecting company profitability. For many, security is viewed primarily as an expense rather than a potential cost-saver. However, understanding […]
Read More