TPC Drives Value to Support the Core Mission of Independent Community Hospitals
TPC Drives Value to Support the Core Mission of Independent Community Hospitals
Independent hospitals are committed to long-term care of the patients in their communities – and TPC is committed to helping those hospitals realize system value through standardization, utilization and pricing strategies that enhance their operational, financial and clinical performance. By taking a close look at all the non-labor spend of a hospital and leveraging the combined volume of all Members, TPC is able to achieve significant cost savings above and beyond what many hospitals are able to achieve on their own.
TPC is an infrastructure built on mutual support, transparency and commitment that allows mid-sized hospitals to compete in a world of much larger healthcare corporations. TPC works collaboratively with Members to strengthen the financial bottom line without sacrificing patient outcomes or community service.
To learn more about the value of TPC, please enjoy the video!
Read more at tpc1.com
Latest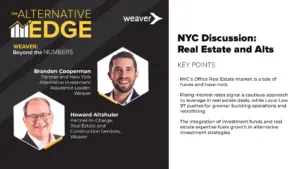 December 5, 2023
Explore the evolving landscape of New York City's real estate and alternative investments with Brandon Cooperman and Howard Altshuler in this insightful episode of Weaver: The Alternative Edge. Dive into the current trends, market forecasts, and strategic growth in the real estate sector. Key Points: NYC's Office Real Estate market is a tale of haves […]
Read More