Yuvo Health Expands Leadership Team with Selase Dow as New Chief Operating Officer to Optimize Infrastructure, Drive Operational Alignment and Support for Community Health Centers
NEW YORK (March 7, 2023) – Yuvo Health, a leading technology-enabled administrative and managed-care solution for community health centers, today announced Selase Dow as its new Chief Operating Officer. In his new role, he is responsible for building and scaling the company's value based care operations to ensure success for their Federally Qualified Health Centers (FQHC) partners, which includes managed care contracting, customer success, and both internal and client operations.
"We're excited to welcome Selase to our leadership team as our new COO, especially given his passion for health equity, and improving the quality of plans that benefit the most historically underserved populations," said Cesar Herrera, CEO and co-founder of Yuvo Health. "His robust network, cultivated over his two-decade career, supports primary care physicians and their patients in value-based environments, while bringing health equity to marginalized communities and seeing them thrive."
With a career spanning over 20 years in the managed healthcare industry, Dow most recently served as Chief Operating Officer at Innovista Health Solutions where he established a strong company-wide operational infrastructure to support government and commercial population health programs. His responsibilities included building and leading physician networks in navigating transitions in healthcare delivery, value-based contracts, and strategic alignment to driven up success.
"Stepping into this exciting new role, I'll continue to expand Yuvo's nationally recognized partnership with FQHCs and help them harness the power of population health to improve the health and social wellbeing of those in greatest need," said Dow. "As we scale our innovative tech-enabled programs and expertise to transform the future of FQHCs, I look forward to partnering with Yuvo's dynamic team."
Prior to Innovista, Selase held various leadership roles at Anthem (Elevance) and Universal American's TexanPlus (WellCare), growing Medicare Advantage and dual population plans by supporting primary care physicians and their patients to thrive in value-based and risk-based payment models. Selase holds an MS degree in healthcare administration from the University of Maryland, as well as a BS in international business administration and economics from Drake University.
Recently, Yuvo Health announced a partnership with Public Health Solutions to better support community health centers and address their patients' social drivers of health, as well as PCDC to provide FQHCs with access to support services through upside risk contracts. Last summer, Yuvo Health partnered with Fidelis Care to announce the submission of a value-based payment contract to the NYS Department of Health that supports affordable care to historically marginalized populations. In early 2022, Yuvo Health announced four FQHCs that have joined their independent provider association (IPA): Long Island Select Healthcare, Metro Community Health Centers, Joseph P. Addabbo Family Health Center, and Advantage Care Health Centers. To learn more about Yuvo Health and their programs for community health centers, click here.
About Yuvo Health: 
Launched in January 2021, Yuvo Health was founded in New York City by a fully BIPOC team with the common goal of bringing fair, quality care to underserved communities. A team that shares first-hand experience of the impact quality health care can make, they strive to instill more compassionate care within healthcare systems. Yuvo Health provides an industry-leading product of administrative and managed-care contracting solutions to Federally Qualified Health Centers (FQHC). Yuvo Health aims to relieve administrative pressure from FQHCs to allow them to focus completely on providing quality care to communities in need. While continuing to serve the downstate New York market, Yuvo anticipates providing their services across New York, the Midwest and the Mid-Atlantic regions. For more information, please visit www.yuvohealth.com.
Latest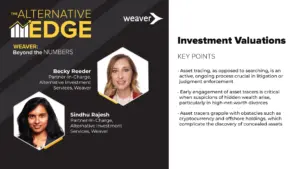 December 4, 2023
In this episode of The Alternative Edge, a Weaver: Beyond the Numbers Podcast, host Becky Reeder, an audit partner and co-leader of the alternative investments practice at Weaver, engages with Sindhu Rajesh, an Alternative Investment Services Partner with Weaver. They unpack the complexities of venture fund valuations, offering critical insights into industry dynamics and best […]
Read More