How Are ChatGPT and AI Revolutionizing Hospitality?
The leisure and hospitality industries were arguably the most adversely impacted industries during the pandemic, suffering a 24 percent revenue reduction. But these industries are on the economic rebound, with transient demand outpacing 2019 levels in more than 90 percent of the past 21 months, according to Hotel News. The tourism and hospitality industries have had to find new, creative methods to help spur their recovery. For some businesses, some of those methods involve artificial intelligence (AI) tools, such as ChatGPT. Is it fair to say we're witnessing AI revolutionizing hospitality in real time?
ChatGPT is a chatbot-like tool, but it is different from most in that it doesn't include pre-programmed answers. This allows it to understand the natural human language and hold human-like conversation to assist in providing recommendations and personalized trip planning for customers, gathering data for businesses, and generating marketing content.
Hospitality professionals are starting to weigh how ChatGPT could enhance the customer experience in the hospitality industry while streamlining employee responsibilities. Bhavin Asher, Founder and CTO of Grubbrr, explains some of the applications he sees for ChatGPT in the restaurant and hotel industries.
Bhavin Asher's Thoughts
"ChatGPT is a tool from OpenAI and it'll usher restaurants and hospitality into the new digital era. It'll make restaurants more efficient and answer every challenge those in the hospitality industry face today. I'll give you some examples: Chatbots, customer experience, and predictive modeling because of inflation.
Restaurants don't know what to buy and what raw materials to buy today or in the future three months from now, or six months from now. But guess what? when you connect ChatGPT with your inventory management tools, it'll exactly predict at probably 90 plus percent accuracy, how much food and raw materials you'll need with labor challenges.
Shortage of labor, some of the labor forces are never coming back, especially to the hospitality and the restaurant space with ChatGPT, because you can have intelligent conversations and with the use of kiosks as well as tools like digital ordering, you can now enable that with a chatbot. Powered by ChatGPT and now it can assist customers with frequently asked questions, and take your orders without any human requirement. Covid has also changed a lot of behavior and you see a lot of drive-through traffic. Now at the QSRs or quick service restaurants with ChatGPT, you can enable these bots at every drive-through and they can take your orders.
With digital ordering going up, ChatGPT will help with customer sentiment analysis, which is based on the feedback, and based on the reviews they're gaining. It'll help learn customers' behavior and help restaurants cater to their customers better. The beauty of ChatGPT is that once restaurants catch up with supply chain labor challenges they can utilize ChatGPT as a way to get very creative with automated menu design because ChatGPT knows what the customer preferences are, what ingredients are being sold, what the dietary restrictions are of that particular customer, and tailor the menu custom to that use customer.
Implementing and investing in technology such as a self-ordering kiosk, digital menu boards, and drive-through AI ordering is great, but connecting it with ChatGPT will put it in overdrive, resulting in increased revenue, less dependency on labor, and helping businesses make more intelligent decisions."
Article written by Cara Schildmeyer.
Latest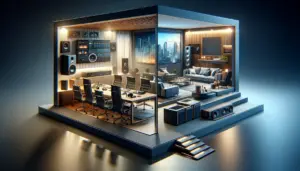 November 27, 2023
In this episode of "Pro AV Today," host Ben Thomas sits down with Audra Kinsley of Sonos Professional to unpack a topic that's causing (sound) waves in the audio industry: the fusion of commercial and residential audio systems. As we navigate through a landscape where consumer and professional audio worlds are increasingly intersecting, Sonos steps […]
Read More